Meet the 5 most bipartisan politicians in Congress
These five politicians were ranked as the most bipartisan members of Congress by The Lugar Center's 2015 Bipartisan Index.
The Lugar Center, based out Georgetown University's McCourt School of Public Policy, developed the ranking based on the number of bills cosponsored with members from the opposite party.
Two trends stand out:
Republican members of Congress scored higher than their Democratic counterparts, with 61 Republicans and 39 Democrats.
The most bipartisan lawmakers come from politically competitive districts, according The Cook Political Report.
That is no coincidence. In districts that lean heavily Democratic or Republican, the election is essentially won at the primary. To prove themselves as the best Democrat or the best Republican for the job, the candidate promises ideological extremes to potential voters. And once elected, the candidate then feels obligated to fulfill their partisan promises in Washington.
Conversely, a politically competitive district is more likely to send bipartisan politicians to Washington – men and women who have reached out to voters across the aisle.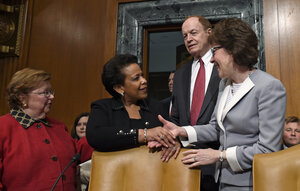 Susan Walsh/AP
1.

Sen. Susan Collins (R) of Maine

Sen. Susan Collins has served as a Republican senator for the state of Maine since 1997.

According to GovTrack's ideological map, she is the most moderate Republican in the Senate. While Senator Collins opposes higher taxes and Obamacare, she also supports more liberal issues such as same-sex marriage, campaign-finance reform, and stronger background checks for gun purchases and renewable energy.

"The main thing Susan Collins does is … her homework, so when she's talking for example about what to do about terrorists with guns, she's usually the best informed senator in the room and everyone listens to her," Sen. Lamar Alexander (R) of Tennessee told the Monitor's Francine Kiefer. "That helps her when she's working across the aisle, and that helps her when she's working in our caucus."

Collins is also respected for her accountability. Since her inauguration, Collins has missed zero of the 6,223 votes held during her tenure.

According to a 2015 Morning Consult poll, the Maine senator has a 78 percent approval rating, ranking as the second most popular senator behind Sen. Bernie Sanders (I) of Vermont.