Julian Castro targets minority voters. Could they swing election for Dems?
Julian Castro, mayor of San Antonio, Texas, became the first Latino keynote speaker in Democratic convention history. The choice speaks to President Obama's need to win Latino voters – particularly in battleground states like Nevada and Colorado. Polls show that President Obama enjoys a huge advantage over Mitt Romney in support from Latino and African-American voters. But if he is to win reelection, getting these voters to the polls could be crucial.
Here's a breakdown of the data on minority voters.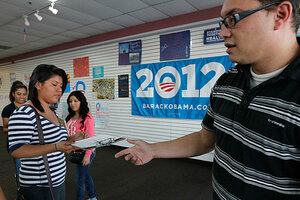 Ross D. Franklin/AP/File
1.

What percentage of the electorate are minority voters?

Minority voters make up a lower percentage of the electorate than they do the entire US population.

Of eligible voters, 71 percent are white, 12 percent black, 11 percent Hispanic, 4 percent Asian, and 2 percent other.

Of the total US population, 63 percent are white, 17 percent Hispanic, 12 percent black, 5 percent Asian, and 3 percent other, according to an analysis of US Census Bureau data by William Frey, a demographer and senior fellow at the Brookings Institution.

The reason for the difference? Minority populations, which are growing at a faster rate than that of whites, include more young people who have not yet reached voting age, writes Dr. Frey in his analysis for Brookings.

He found that 78 percent of whites are eligible to vote, compared to 69 percent of blacks, 53 percent of Asians, and 44 percent of Hispanics.