Beyond Hillary Clinton: 7 other Democrats possibly (or definitely) running for president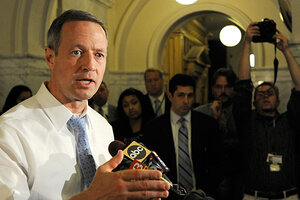 Steve Ruark/AP
3.

Martin O'Malley

Former Governor O'Malley of Maryland has been preparing to run for more than a year, but remains an unofficial candidate.

Long before O'Malley finished his second term in January 2015, he was busy building up his political action committee, campaigning on behalf of other Democrats, and pressing the flesh in early primary states. He also served two years as chairman of the Democratic Governors Association, which helped him build party contacts around the country.

In 2009, Governing magazine named O'Malley one of its "Public Officials of the Year." The magazine cited his data-driven approach, both as governor and as a two-term mayor of Baltimore. He signed legislation legalizing gay marriage and in-state college tuition for illegal immigrants in Maryland, and both measures were supported by Maryland voters on Election Day.

But major problems with the state's health-care exchange, MarylandHealthConnection.gov, dinged O'Malley's image of competence. His chosen successor, former Lt. Gov. Anthony Brown (D), failed to succeed him in the 2014 elections, another blow to O'Malley. Unrest in Baltimore has drawn attention to the city's problems, and fairly or not, that also doesn't help O'Malley.

O'Malley is proud of his Irish heritage. He plays in a Celtic folk rock band called O'Malley's March. His PAC is called the O'Say Can You See PAC.