Elizabeth Warren memoir: 5 things we learned about liberal hero
Liberal darling Elizabeth Warren, freshman Democratic US senator from Massachusetts, released her memoir April 22, "A Fighting Chance." In it, Senator Warren takes us through the phases of her life: her working-class childhood in Oklahoma, her early marriage and motherhood, her career as a law professor, and her rise to Washington's corridors of power.
It's a breezy, readable story, even the parts about bankruptcy law and banking reform. Here are five things to know about her book.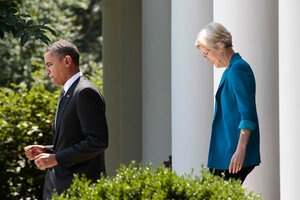 Pablo Martinez Monsivais/AP
1.

It's a classic presidential campaign manifesto

Warren has insisted over and over again that she has no intention of running for president, despite calls by her fans to jump in. The subject does not come up in her memoir. But if she ever changes her mind, this book is ready-made for a presidential campaign. The daughter of a maintenance man and a phone operator at Sears, she had the classic hardscrabble upbringing. She even had an Aunt Bee who was a central figure in her life. "Mayberry R.F.D.," anyone?

She portrays herself in the most human of terms. With regularity, it seems, she's either weeping, getting lost, or setting the kitchen on fire – and she's passionate about everything, from her dogs and her grandchildren to the fight to set up a consumer financial protection agency that will protect average Americans. Warren claims no ambition in politics, but she has turned out to be rather good at it – including the fundraising part – and so here she is, one of the Senate's most-watched figures.

"I never expected to go to Washington," she writes. "Heck, for the most part I never even wanted to go. But I'm here to fight for something that I believe is worth absolutely everything: to give each one of our kids a fighting chance to build a future full of promise and discovery."

Doesn't that sound like the germ of a presidential campaign speech?