Javascript is disabled. Quiz scoring requires Javascript.
How much do you know about Jeb Bush? Take our quiz.
John Ellis 'Jeb' Bush, the former two-term Republican governor of Florida, says he's thinking of running for president in 2016. If he ran and won, he would be America's third President Bush, following his father and brother – an unprecedented feat for a single family in US history. But Jeb Bush is his own man, and would bring unique qualifications to the table, starting with fluency in Spanish. In his family, he is seen as the policy wonk, driven by big ideas. Test your knowledge.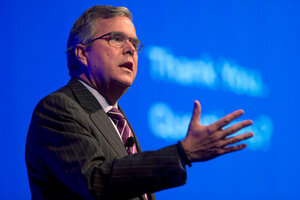 Wilfredo Lee/AP/File
1.

Among the children of George H.W. and Barbara Bush, where is Jeb in the birth order?