Immigration crisis 101: Why the wave of incoming kids, and what to do?
'Unaccompanied minors' detained at the border total 47,000 since October – up from 13,000 in all of fiscal 2012. They are swamping US ability to cope, so the FEMA director has been called in. But that's just a short-term solution.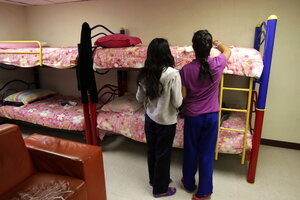 Jose Luis Gonzalez/Reuters
The current "humanitarian crisis" on the southern US border – thousands of children and young teenagers with no guardians crammed into shelters, and migrant mothers and children making do in makeshift encampments – is stirring a round of finger-pointing and a debate over and what the United States can or should do in response.
The facts are stark. Escaping from homeland violence and drawn by vague promises of asylum in the US, "unaccompanied alien children" apprehended at the border have jumped in number from 13,000 in 2012 to 47,000 in just the past eight months. Government officials say that figure could almost double, to 90,000, by Sept. 30, the end of the fiscal year. Next year, they say, the wave could double in size.
Numbers of migrant mothers with children have also increased – part of a 74 percent jump in apprehensions along the south Texas border since last year. 

Test Your Knowledge
Could you pass a US citizenship test? Find out.
What is happening to the children and teenagers?
The unexpected crush of kids and young teens trying to cross the Rio Grande in Texas is overwhelming the US Department Health and Human Services, whose Office of Refugee Resettlement by law cares for wayward migrant children. The result is that the US Border Patrol has had to pick up the slack, including opening three formerly closed military bases to house and feed the unaccompanied minors. About 1,000 children currently reside on those bases.
Crowded conditions in some centers – some depicted in photos published in the past week – have put in the cross hairs America's capacity to administer humanitarian aid within its own borders. FEMA Director Craig Fugate is now the point person dealing with a different kind of flood than what the emergency management agency usually handles.
The border patrol is coping with the swell by releasing many of the migrant mothers with children on their own recognizance, with a date for a deportation hearing in hand. Some of the unaccompanied minors are being released to the custody of parents or relatives in the US. One flaw in that approach: Only 40 percent of those accused of being in the United States illegally ever show up for court, according to former federal immigration Judge Mark Metcalf. 
How is this influx different from past immigration waves?
Overall illegal immigration into the US is about half the rate of its apex in 2005. It plummeted with the rise of the Great Recession and high US unemployment, beefed-up border security, and a stronger economy in Mexico. At the peak of illegal entries, immigrants apprehended from Central America accounted for 400,000 border-crossers. The total is now at about 180,000, but it is rapidly pushing up.
What's different this time is that the undocumented immigrants from Central America are disproportionately younger, apparently trying to escape from strife-torn and murder-wracked countries. Many of the children are reported to be seeking to join their undocumented parents or relatives already in the US.
Complicating the issue, US authorities can't just drop the youngsters off at the border. Guatemala, for one, is 600 miles by land from the US border, and the US can't expect Mexican authorities to bus them home. There are no direct ferries to use for transit, so US immigration authorities are having to fly the children home, at a cost of more than $8,000 per flight.
Are President Obama's unilateral actions to blame?
Republicans such as Sen. Jeff Sessions of Alabama say so. On Monday, Senator Sessions wrote on the conservative website Breitbart.com that the Obama administration "is signalling to everyone in the world: if you come here by a certain age you will get amnesty and, ultimately, so will your family. It is a recipe for permanent lawlessness, open borders, and a continuing humanitarian catastrophe."
Nothing Obama has done has directly caused today's big influx. None of these immigrant children or recent Central American migrants is eligible for deferred deportation under his 2012 DACA order (Deferred Action for Childhood Arrivals), for instance. However, that order is being interpreted differently – by news media and by "coyote" smugglers looking for business – in parts of Central America, leading some people there to believe the US has waived some of its immigration rules when it come to children.
One thing is certain: The crisis on the border is causing political repercussions that some critics believe could hurt Democrats in the November midterm elections – and even sink chances of broad-based immigration reform in the US.
What's the remedy?
Pro-immigration advocates say the children, at least, should have the chance to make the case (through appointed attorneys) that they are refugees seeking asylum in the US. Groups that seek low immigration levels say this current wave of illegal arrivals should be sent packing – that the US can ill afford to shoulder the costs of caring for these mothers and children. Immigration courts are grinding along to process cases, but the influx of immigrants has overwhelmed their ability to keep pace.  
Longer term, the teeming border is largely a geopolitical problem for the US. The deeper question is the extent to which the US can act to stabilize the security situation in Central America by means of diplomacy and aid.
With government agencies in the throes of crisis management, however, that is not the discussion likely to take place ahead of the November election – especially amid White House estimates that dealing with the immigrant mothers and unaccompanied children could cost US taxpayers an extra $1.4 billion next year – almost double the current outlay.
"For me, the danger is that this crisis will be used for good and for ill for political reasons in a way that obscures the underlying issues of immigration," says Allert Brown-Gort, an immigration policy expert at the University of Notre Dame. "It needs to lead to a discussion about how and whether assistance would help Central America get its act together, so that the [reason for migrating to the US] would not exist."