Border crisis 101: eight things to know about unaccompanied children
Since last October, more than 52,000 unaccompanied children have crossed the US-Mexico border illegally – a surge that has taxed US resources. The White House says "most" of the children, many from Central America, will be deported. But is that realistic? What kind of rights do these children have?
With the help of the Bipartisan Policy Center, a Washington-based think tank, here's a look at today's immigration crisis and how it compares to the recent past.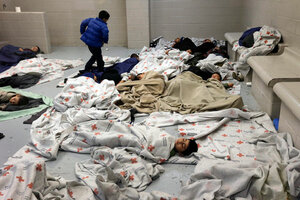 Eric Gay/AP/File
1.

What is an "unaccompanied alien child"?

That's a term used by the Department of Homeland Security (DHS) to categorize many of the children who have flooded across the southern US border since last October. Many of them are in fact not alone, and some are even accompanied by a parent, but are classified as "unaccompanied alien children," because of how they are processed.

To avoid classification as "unaccompanied," a child must prove that any accompanying adult is either a parent or guardian. DHS used to extend custody to close family members, like grandparents and adult siblings, but opted for a stricter definition in 2006. Even if an accompanying adult is confirmed to be a parent or guardian, that adult may be placed in detention as a criminal alien, separate from the child, and so the child becomes "unaccompanied."

Also, a lack of bed space may force a child's adult companion to be housed in separate facilities, rendering the child "unaccompanied."