3D or no 3D? 'Harry Potter, Part 2' aims for it, but is that a mistake?
Work to convert 'Harry Potter and the Deathly Hallows, Part 1' to 3D was abandoned, but the studio is hoping to pull it off for 'Part 2.' Not everyone is sure a costly 3D conversion is the way to go.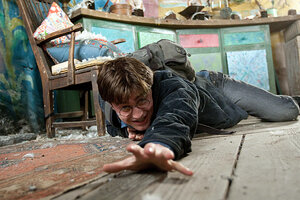 Jaap Buitendijk/Warner Bros. Pictures/AP
In "Harry Potter and the Deathly Hallows, Part 1," the tale of a trio of young wizards in pursuit of the evil Lord Voldemort hauled in some $330 million from around the world on Friday, Saturday, and Sunday.
This whopping box-office take puts the overall series on track to be the most lucrative film franchise in movie history, says Paul Dergarabedian, Hollywood.com box office expert. With the tallies from this weekend, "the franchise has already hit the $5.7 billion mark globally," he says, which trumps both the "Star Wars" series and the "James Bond" movies, even adjusting for inflation.
Fans and film buffs are quick to note that the movie is likely to make history without the benefit of 3D.
After "Avatar," another record-breaking film that swept through movie theaters earlier this year, the technology seemed poised to take over all of filmmaking. Warner Bros. did try to push out "Deathly Hallows" in every conceivable format – from 2D to 3D to Imax. But back in October the studio retrenched on the 3D effort, explaining that to meet the Nov. 19 release date, all work to convert Part 1 to 3D was being dropped.
"Despite everyone's best efforts, we were unable to convert the film in its entirety and meet the highest standards of quality," the studio said in a press release. "We do not want to disappoint fans who have long anticipated the conclusion of this extraordinary journey."
Both parts of "Deathly Hallows," the concluding film of the series, were shot in June, so the studio hopes to have time to finish the 3D live-action conversion process in time for the July 15 release of Part 2.
But the question arises: With boffo box office nearly a guarantee for the final film – and the growing rumblings of fans who say they do not want or need 3D to enjoy "Harry Potter" – is this really the way to go?
The last-minute pullback from 3D on the first half of "Deathly Hallows" may have been as much a cost-cutting measure as a quality check, suggests Christopher Sharrett, a film professor at Seton Hall University in South Orange, N.J.
"Conversions are very expensive," boosting a film's cost by 10 to 20 percent, he says. If the recent experience with "Clash of the Titans" held any lessons for the industry, it is that bad 3D conversion can backfire at the box office. "Why do it with such a guaranteed box-office draw if you don't have to?" Mr. Sharrett asks.
"The franchise simply doesn't need the 3D treatment," agrees 20-something Michael Brody, who writes the Movies From Every Angle blog and who has been tracking all the Potter films from Day 1. Despite the hoopla over 3D in "Avatar" and a few other big films this year, 3D has been most successful with more gimmicky films such as "Jackass" and "Saw." There is some real concern, he adds, "that putting 'Harry Potter' into 3D could really interfere with the cinematic experience of the story."
Some fans, though, worry that the film wasn't actually shot in 3D. "This means they have to pick and choose which things to convert," says law student Jerry Schultz, who attended a midnight screening this past week in Calabasas, Calif. "That kind of selective gimmickry can get really annoying."
While a set of nifty shades perched on your face for a few hours may be a small price to pay for a new filmgoing experience, the studio may be missing the point, says Melissa Anelli, author of "Harry, A History" (with a preface by J.K. Rowling). The 3D hardware is a genuine concern for fans who come to "Harry Potter" not for big special effects but for the story and the characters.
"If Warner Bros. can figure out how to make me forget that I'm wearing those glasses for more than two hours while I'm trying to enjoy the movie, then maybe," she says. "But otherwise, why add something that puts so much between me and the real movie experience?"