The Oscars 2011: How real are the reality-based Best Picture nominees?
Oscar has always loved films based on true stories – 100 out of 485 Best Picture nominees since 1927 would qualify – but never more than this year. Four of the 10 features on the Best Picture slate are based on real characters and events: "The King's Speech," "The Fighter," "The Social Network," and "127 Hours."
Eavesdrop on departing moviegoers and you will inevitably hear, "I'd love to know what really happened." Here are some facts behind the "true-life" stories contending for this year's Best Picture Academy Award.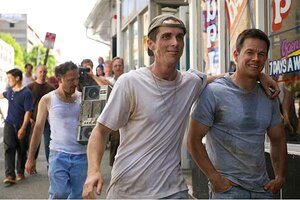 Jojo Whilden/Paramount Pictures/AP
"The Fighter"

This boxer biopic emphasizes the relationship between "Irish" Micky Ward and his half-brother and coach, Dickie Eklund, who had fallen on hard times after his own career in the ring.

Born in 1965, Mr. Ward came of age during tough economic times in his hometown of Lowell, Mass., a once-vibrant but now struggling factory town. Young Micky followed in the footsteps of Mr. Eklund, an amateur boxer whose 10 rounds in the ring with Sugar Ray Leonard in a 1978 bout earned him the nickname "The Pride of Lowell."

After Eklund retired – driven from the ring by an addiction to crack cocaine – he taught Ward. The brothers were a team as Ward became an undefeated 140-pound welterweight, taking down 14 opponents. Ward's talents grew even as his half-brother's problems with drug addiction and crime spun out of control, as chronicled in the 1995 HBO documentary "High on Crack Street."

Ward's three legendary fights with Arturo Gatti established his status as one of the most uncompromising figures in boxing history. By the end of his career, "Irish" Micky Ward had 38 wins, 27 knock-outs, and three crowns – won at what Ring Magazine dubbed the Fight of the Year in 2001, 2002, and 2003.