They said what? Five public figures whose comments landed them in hot water.
In today's 24/7 news cycle, it isn't hard for controversial comments about race and other sensitive topics to turn into a public spectacle. Some remarks have ended careers, some have caused public shaming, and others had little long-term effect at all. Here are five individuals who made controversial, high-profile statements – and here are the consequences they faced.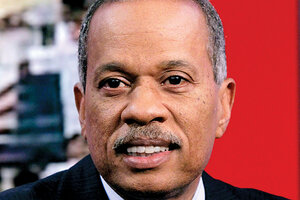 AP
1.

Juan Williams

When: October 2010

What was said: In a conversation with TV host Bill O'Reilly, the journalist said he got "nervous" when Muslims in religious dress boarded planes on which he was traveling.

What resulted: Two days later, Mr. Williams was fired by NPR, where he had served in senior positions since 1999. He remains a political analyst at Fox News and continues to contribute to a number of national publications.