One factor behind falling share of Americans who call themselves Christian
In 2007, more than 78 percent of Americans said they practiced some form of Christianity. Today, in apparently the lowest figure in US history, 70.6 percent identify as Christians, according to a new Pew study.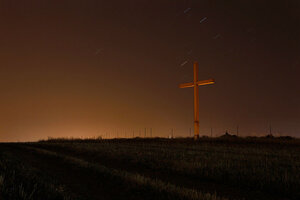 Petros Karadjias/AP
Religion and politics are two subjects fraught within the welter of American expressions of faith, and the interplay between them could be evolving.
Whereas religion has often influenced politics, now politics appears to be driving some Americans away from religion.
That phenomenon is an important factor in the declining number of Americans who practice the Christian faith, as well as the rising number of those without any faith at all.
A major demographic study of the country's religious landscape by the Pew Research Center, released on Tuesday, shows just how dramatically the overall number of self-identifying Christians has dropped in seven years. In 2007, more than 78 percent of Americans said they practiced some form of Christianity. Today, 70.6 percent identify as Christians – apparently the lowest figure in US history.
True, the United States is still the most Christian country in the world. But the decline in Christians now spans every age group and region around the country, including the Bible Belt, Pew reported.
"The rise of the unaffiliated – and knowing that a lot of that rise is from former Christians of all types – is really important to notice," says David Gushee, director of the Center for Theology and Public Life at Mercer University in Georgia, who was not involved in the Pew study.
Not far from any discussion of these changes is American evangelicalism, which remains the most potent religious and political force among the panoply of faith traditions in the US.
Unlike nearly every other Christian group in the US, the number of white Evangelicals has held relatively steady over the past seven years, maintaining about 25 percent of the American population – and even increasing their total numbers slightly. (Black Protestants, who are counted separately but mostly maintain evangelical theologies and styles of worship, also held steady at about 7 percent of the population, though they tend to vote reliably Democratic.)
On the one hand, such numbers speak to the ongoing vitality of American evangelicalism, with its own swirl of diverse traditions that have evolved since the Colonial era. But on the other hand, the political strength of conservative Evangelicals themselves may be fueling the other major finding of the Pew survey: the dramatic increase of "nones," or those who don't practice any form of faith.
Among white Evangelicals, 8 out of 10 typically, and reliably, support the GOP – a consistency not seen in almost any other demographic group this size. Scholars have long identified a backlash to this conservatism of Evangelicals – and, to some extent, conservative Catholics. Indeed, many experts argue that the political conflict over culture-war issues has spurred an increase in those who have left their religious traditions altogether.
The Pew survey found that those unaffiliated with a faith tradition are now the second-largest religious demographic group after Evangelicals, with about 23 percent of the population. Among these, atheists and agnostics have jumped from 4 percent of the population in 2007 to more than 7 percent of the population in 2014, and most have more liberal political views.
"Traditionally, we thought religion was the mover and politics were the consequence," Michael Hout, a sociologist and demographer at New York University, told the Religion News Service. The opposite appears the case today, he said, as some have left evangelical denominations and the Catholic faith because "they saw them align with a conservative political agenda and they don't want to be identified with that." Last year, Mr. Hout cowrote the paper "Explaining Why More Americans Have No Religious Preference: Political Backlash and Generational Succession, 1987-2012," which studied the trend.
At the same time, changing demographics – especially the growing influence of Millennials – have produced simmering changes within the evangelical subculture itself, which is still characterized by an emphasis on issues like same-sex marriage and abortion.
In 2007, about 14 percent of Evangelicals expressed support for gay marriage – the lowest percentage in the country by far. By 2014, however, 21 percent expressed support, fueled by the younger generation, another Pew survey found.
"I know many, many cases of younger Millennial Evangelicals who just are turned off by the conservative politics," says Professor Gushee, whose 2014 book, "Changing Our Mind," offers a defense of same-sex marriage from an evangelical perspective. "Sometimes they leave an evangelical identity, and sometimes they leave a Christian identity altogether because they're sick of the whole thing."
Just over half of all Millennials currently identify as Christian, the Pew survey reported. Conversely, more than a third of all Millennials do not affiliate with any religion, maintaining a more secular outlook and becoming "more comfortable admitting it" than ever before, John Green, director of the Bliss Institute of Applied Politics at the University of Akron in Ohio, told the Religion News Service.
Still, evangelical Christians are a powerful force in US politics.
"There is a continued robustness about a lot of evangelical expressions of Christianity in the US that is noticeable when you travel inside and outside that world on a regular basis," says Gushee. "Partly it's because of its entrepreneurial vision of Christianity, with a capacity to change. There's always somebody working to present evangelical Christianity in a way that communicates with Millennials and meets the needs of each moment."