Urban Meyer resigns as Florida head coach, this time for good
Urban Meyer stepped away briefly last year as the Gators coach, but returned for the 2010 season. Now, a less than stellar record this fall has chased Urban Meyer off the sidelines.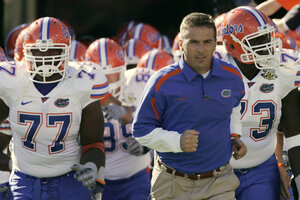 Ed Reinke/File/AP Photo
University of Florida head football coach Urban Meyer has decided, once again, to leave the Gators, one year after a one-day retirement.
Meyer became ill last December after leading Florida to the SEC Championship game versus Alabama. He announced his resignation, but after more consideration, returned to his job the next day.
This season, after losing Heisman Trophy-winning quarterback Tim Tebow and other starters, Meyer and the Gators struggled through a 7-5 season, including a 31-7 loss at rival Florida State.

Recommended:
Should universities sack football?
In the end, the losing, plus the amount of work it would take to get Florida back in the national title picture and the time that effort would take away from his family, proved to be too much.
Meyer, who led Florida to a pair of national championships, will coach his final game against Penn State in the Outback Bowl January 1, 2011 in Tampa.
That leaves two Sunshine State football powerhouses shopping for a new head coach.
Last week, this news organization and others reported that former NFL head coach Jon Gruden was in talks with University of Miami officials to replace Randy Shannon, who was fired. Gruden has since said that he's not interested in the Miami job. But there's already speculation that he might be tempted by the Gators slot.