Brett Favre: Metrodome collapse gives Vikings QB time to heal
Brett Favre and the Vikings won't play Sunday, due to the blizzard which hit Minnesota and dumped enough heavy snow on the roof of the Metrodome to cause it to collapse. No one was injured. The Vikings-Giants game is postponed to Monday night. Brett Favre has a shoulder injury that has put in jeopardy his hopes of getting his 298th consecutive regular-season start.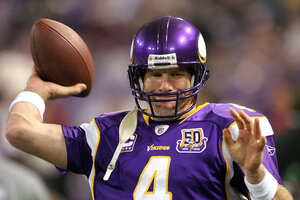 Andy King/AP
Mother Nature has given Brett Favre at least another 24 hours to recoup from injuries that have put his starting streak in jeopardy.
The inflatable roof of the Metrodome in Minneapolis, Minnesota collapsed under the weight of heavy snow. Before the roof collapse, officials had already postponed the matchup to Monday night. With the Metrodome collapse, the game will reportedly be played in Detroit.
The New York Giants have been stranded in Kansas City since Saturday, unable to get to Minnesota for the game because of the snowstorm that has battered the Midwest.
Favre is attempting to continue his record streak of consecutive regular-season starts to 298. All he needs to do is take the opening snap of the game to be counted as start. The quarterback suffered a right shoulder injury.
"I wasn't playing (Sunday), but we'll see how it feels" Favre told ESPN in a text message.
Keeping the streak going is bright spot in a season darkened by scandal for Favre.
We all know the charges, that Favre sent a New York Jets sideline reporter "inappropriate" texts, pictures and voice mails while he was a member of Jets organization.
The Vikings and Favre are looking to salvage some dignity in their final four games of the season.
Heisman Trophy: Top 10 winners who succeeded in pro football