Tom Brady: Dancing with the Carnival stars? (VIDEO)
Tom Brady was captured on video dancing to the music of Carnival in Rio de Janiero, Brazil earlier this week. The New England Patriots can only hope by seeing Tom Brady dance, his injured foot is feeling better.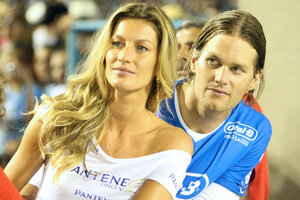 Newscom
We mentioned in an earlier post about professional boxers being able to dance, out of necessity.
To a certain extent, NFL quarterbacks must be able to move to avoid big hits from rushing defenders and create openings in opponents defenses.
Tom Brady of the New England Patriots, the NFL's 2010 most valuable player, is not known for his blazing speed, but he is mobile.
Brady played with an injured foot during the latter part of last season, which has since been repaired.
Seeing his franchise quarterback cut a rug (kind of), head coach Bill Belichick must be breathing a huge sigh of relief.
Now, if NFL owners and players could just come together on a new collective bargaining agreement.