Troy Polamalu has amazing hair, top-selling NFL jersey
Troy Polamalu, he of the insured hair, had the best-selling jersey over a 12-month period. Troy Polamalu and the Steelers are still smarting from their Super Bowl loss to the Packers this past February.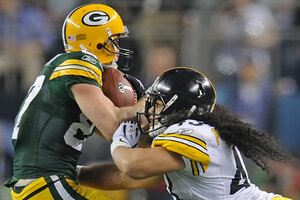 ZUMA Press/Newscom
Earlier this month, NFLShop.com, the online merchandise shop of the National Football League, announced that Pittsburgh Steelers safety Troy Polamalu had the top-selling jersey for the year between April 1, 2010 and March 31, 2011.
Polamalu, already well-known for his fearless defensive play and advertiser-insured locks, was named the Associated Press NFL Defensive Player of the Year, prior to Super Bowl XLV outside Dallas.
The Steelers lost to the Green Bay Packers in the Super Bowl. Packers quarterback Aaron Rodgers had the No. 2 selling jersey, followed by Drew Brees of the New Orleans Saints. Colts quarterback Peyton Manning and Broncos quarterback Tim Tebow round out the top five.
Other Steeler jerseys on the top-selling list include quarterback Ben Roethlisberger and wide receiver Hines Ward. Packer linebacker Clay Matthews makes the list at No. 8.
Last year's top seller, the Vikings' Brett Favre, fell to No. 14 on the top-20 list. Here's a glance at the top 10 list of NFL jersey sales.