Javascript is disabled. Quiz scoring requires Javascript.
NFL weekly news quiz: Coughlin and Cam in the headlines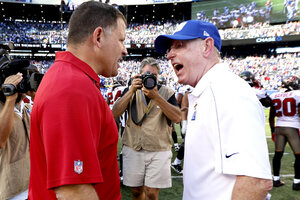 Julio Cortez/AP
1.

At the end of the New York Giants' 41-34 victory over the Tampa Bay Buccaneers, what so outraged Giants head coach Tom Coughlin that he lit into Bucs coach Greg Schiano when they met at midfield?

The Buccaneers taunted Giants.

Tampa Bay called two timeouts rather than let the Giants kill the last seconds.

The Buccaneers crashed into the Giants backfield when New York quarterback El Manning was kneeling down to run out the clock.

The Bucs refused to shake hands after the game.