Javascript is disabled. Quiz scoring requires Javascript.
Dallas Cowboys: America's so-so team? A Week 4 NFL Quiz
The Chicago Bears looked like a far more serious Super Bowl contender than Dallas Monday night in beating the Cowboys 34-18. It was yet another game underscoring Dallas's march toward mediocrity over the last six years. What do you know about the play of the team's starting quarterback and other developments during Week 4 of the NFL season? Take this 12-question quiz.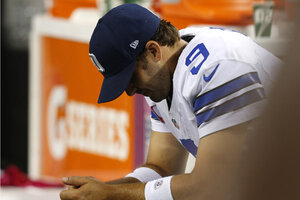 Sharon Ellman/AP
1.

In Monday's loss to the Chicago Bears, Dallas quarterback Tony Romo threw five interceptions. What is the team's winning percentage since his first full season as the starter in 2007?