Baseball 2012: The game's best off-beat, under-the-radar statistics and trivia
While it's easy for Major League Baseball fans to focus on the traditional statistics – batting averages, home runs, earned-run averages, etc. – every season produces a host of lesser-noticed statistical feats, numerical oddities, and firsts of various kinds. These can easily get lost in a mountain of numbers and box scores. So here, in case you missed them, are a dozen of the year's most fascinating stats and trivia tidbits, with the stories behind them.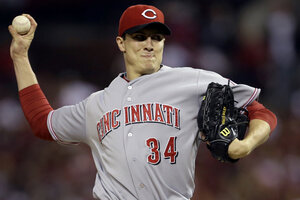 Jeff Roberson/AP
1.

Birthday boys

In May, Ryan Dempster of the Chicago Cubs and Homer Bailey of the Cincinnati Reds became the first starting pitchers in major-league history to oppose each other on their birthdays

Backstory: Frankly, it's amazing that baseball's statmeisters would know this is a first over the entire sweep of big-league history. Bailey, the younger player by nine years, was unaware of the coincidence until a Baseball Hall of Fame rep approached him in the trainer's room afterward.

Bailey and Dempster were asked to sign several balls to record the event. It was not really a happy occasion for Dempster, who had pitched eight scoreless innings and left the game with a 3-0 lead, only to see the Reds come from behind to win in the 10th inning.