Javascript is disabled. Quiz scoring requires Javascript.
For pride, pure and simple: Army-Navy football. Take our quiz
The game that reminds everybody of what still can be good and honorable about college football is set for its 113th kickoff Saturday, when 7-4 Navy meets 2-9 Army on national TV (3 p.m. ET on CBS). Navy leads the series, which began in 1890, 56-49-7. To test your knowledge of this traditional rivalry, take this 16-question quiz.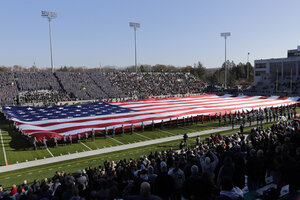 Mike Groll/AP
1.

What city traditionally hosts the game?