Javascript is disabled. Quiz scoring requires Javascript.
Jets and Giants bring 'Big Angst' to the 'Big Apple.' A Week 15 NFL quiz
If songwriter Billy Joel were to rework one of his most famous songs, how might he describe the "New York state of mind" of the city's NFL fans? Maybe "anxious" or "angry" or both after a week in which the defending Super Bowl champion Giants were humbled, 34-0, by the Atlanta Falcons and the Jets saw their last, faint playoff hopes snuffed out by the Tennessee Titans, 14-10. In the latter game, Jets quarterback Mark Sanchez committed five turnovers, including one on each of the team's last three possessions. To test your knowledge of Week 15 developments, take this 16-question quiz.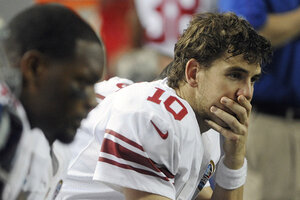 John Amis/AP
1.

In losing 34-0 to the Atlanta Falcons, the New York Giants made NFL history. How?

They became the first team to have four touchdowns nullified by penalties.

They suffered the worst shutout loss by a defending Super Bowl champion.

They never ran a single offensive play in the "red zone."

They failed to score for the first time in 367 straight games.