Javascript is disabled. Quiz scoring requires Javascript.
Seahawks nothing short of sensational. A Week 16 NFL quiz
It may be premature to use the headline "Seattle Reign," since the Seahawks pounded the San Francisco 49ers, 42-13, in a nationally televised Sunday night game. But there's certainly good reason to think this could be the year that the Seahawks just might win the Super Bowl for the first time in the franchise's 36-year history. After all, they've now outscored their last three opponents 150 to 30, have one of the stingiest defenses in the league, and boast a tremendously mature rookie quarterback in Russell Wilson who has improved exponentially as the season has progressed. To test your knowledge of Week 16 NFL developments, take this 18-question quiz.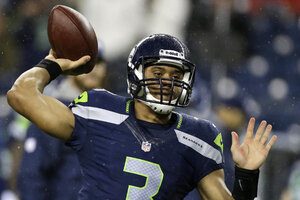 Elaine Thompson/AP
1.

NBC "Sunday Night Football" analyst Chris Collinsworth says Seattle's scrambling rookie quarterback Russell Wilson reminded him of what Hall of Famer?