Javascript is disabled. Quiz scoring requires Javascript.
Cotton Bowl watchers et al.: Do you know your Texas college football history?
The 77th Cotton Bowl (aka the AT&T Cotton Bowl Classic) stacks up as one of the most attractive matchups in the game's recent history, with Johnny Manziel and Texas A&M (10-2) going up against Oklahoma (also 10-2) Jan. 4 at Cowboys Stadium in Arlington, Texas. The game, plus five other bowls played in the state, are sure to keep Texans and college football lovers everywhere dusting off their memories of Lone Star football. Here are 30 questions to put your knowledge of the subject to a serious test.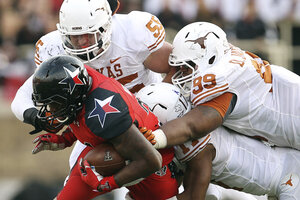 Stephen Spillman, Lubbock Avalanche-Journal/AP
1.

Which school does the University of Texas play in its annual Red River Rivalry?