Javascript is disabled. Quiz scoring requires Javascript.
NFL playoff thrill-a-thon: Flacco's fling, Kaepernick's runs; Falcons' escape. A Week 19 quiz
The National Football League couldn't have asked for much more excitement that it got from three of the four divisional playoff games. One was decided in double overtime (Baltimore over Denver) after Joe Flacco's Hail Mary-style TD pass tied the game at the end of regulation. Another (Atlanta over Seattle) saw the lead change twice in the last 31 seconds as Atlanta escaped with a game-winning field goal after squandering a 20-point, fourth-quarter lead. The other scrapbook-worthy game saw San Francisco's Colin Kaepernick run wild in a victory over Green Bay. Only New England's workmanlike 41-28 win over Houston was not a grabber. To test your knowledge of NFL playoff developments, take this 12-question quiz.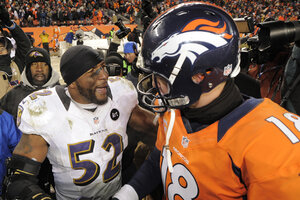 Jack Dempsey/AP
1.

Baltimore's 38-35 double-overtime victory over Denver was the fourth-longest game in playoff history, running 16:42 beyond regulation time. But how long after regulation did the Miami Dolphins and Kansas City Chiefs play in 1971 before the Dolphins finally won the longest playoff game ever?