World Series: Can Red Sox stop stumbling over themselves?
The World Series has turned on defensive blunders. In Game 1, it was the St. Louis Cardinals. In Games 2 and 3, it was the Boston Red Sox. Game 4 is Sunday night.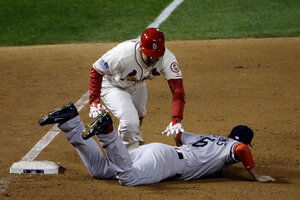 David J. Phillip/AP
After Game 1 of the World Series, it seemed to fair to ask if the St. Louis Cardinals were up for this. Again and again, big moments arrived and the Cardinals took a meat cleaver to them. Though the Boston Red Sox did much right in a 8-1 demolition, the game was more about what the Cardinals did wrong.
Now, after Games 2 and 3, the same question could be asked in reverse. In both games, in the biggest moments, the Red Sox have gotten it catastrophically wrong.
This is not about the obstruction call in the bottom of the ninth inning that meant Cardinals base runner Allen Craig, who was thrown out at home, was actually safe, giving St. Louis a 5-4 win and a 2-1 series lead.
The fact that a World Series game had never before been decided by an obstruction call gave Game 3 its peculiar ending and no small amount of buzz. But the call itself was correct and not really even controversial. Craig tripped over Sox third baseman Will Middlebrooks while trying to run home. If he hadn't, he would have scored easily. Case closed.
No, by far the more important point is: What was Jerrod Saltalamacchia thinking in trying to throw him out at third?
For the second game in a row, a Red Sox player standing at home plate has been struck by delusions of grandeur at precisely the wrong moment. In Game 2, relief pitcher Craig Breslow, backing up a throw to the plate, flung the ball into the stands while trying to throw out John Jay at third. Jay scored, as did the runner behind him, and the Cardinals won by those two runs, 4-2. 
In Game 3 Saturday night, a historical hiccup meant the needle of World Series skipped, replaying virtually the same situation: Game tied, two outs, runner heading toward third, ball at home plate. And once again, the Red Sox made the wrong decision, as though to prove their earlier mistake was not an aberration but some sort of cosmic flaw.
There was Craig barreling toward third, so far down the baseline that he was certain to be safe. And there was Saltalamacchia, the Red Sox catcher, channeling his inner MacBeth. Birnham Wood had come again to Dunsinane, and he was still atop the castle walls, shaking his fist. Or, in this case, a Red Sox player was again throwing the ball to third base. Again having it scoot away to allow a runner to score. And again having that run be the margin of difference in a 5-4 win.
Somewhere, Saltalamcchia's Little League coach was yelling at the screen: Don't throw it!
Already, three games have confirmed what we all suspected: The difference between these two teams is thinner than an autumn leaf. In the regular season, they both won 97 games. They both led their leagues in run differential (runs scored minus runes conceded). Both have excellent starting pitching and a solid lineup. The Cardinals' bullpen might be deeper, but its bench is shallower. The series could hardly be more finely balanced.
Mistakes like those the Red Sox have made in Games 2 and 3 are precisely the sorts of things that determine a series as evenly matched as this. In tennis, it is often said: Who plays the big points better? In postseason baseball – and particularly this postseason, when runs appear to be embargoed like Iranian oil – the same is often true. For two straight games, the Red Sox have double faulted facing match point. 
Would those runs have scored anyway in Games 2 and 3? Maybe. But maybe not.
Throughout the season, the Red Sox built an identity by being relentless. No game was over until the umpires collected the balls and went home. The Sox set a team record with 30 come-from-behind victories.
In Games 2 and 3, they were well on their way to doing the same, thanks to David Ortiz's home run Thursday and Xander Bogaerts run-scoring grounder Saturday. But along the way, the Red Sox have run into a team in St. Louis that has just as little quit in them. If the script was for more come-from-behind Sox wins, no one told the Cardinals. And they probably would have given the screenwriter a kick in the shins anyway.
No, these past two games, it has been the Red Sox who have stared into the face of another team's determination and blinked. Determined to win at any cost, they have paid the price of beating themselves.
The day after one of the most bizarre finishes in World Series history, the only people the Red Sox are obstructing are themselves.