Amazing college football records that look unbreakable
The National Collegiate Athletic Association football record book roams over 19 pages and tracks everything from the standard team and individual achievements to the arcane, such as the most touchdown passes caught by a freshman and most blocked extra points for a career. Some NCAA marks for the major-college Football Bowl Subdivision are broken regularly, others rarely. Here are a dozen records that could last a lifetime, or more.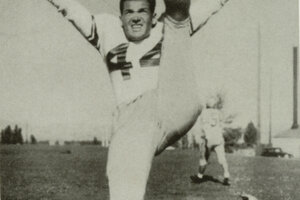 COURTESY OF THE UNIVERSITY OF NEVADA-RENO
Longest punt

99 yards, by Nevada-Reno's Pat Brady in 1950

This punt against Loyola Marymount reportedly sailed about 70 yards in the air, but actually traveled more than 100 yards since the distance is measured from the line of scrimmage not from where the punter kicks the ball. Surprisingly, Brady was not a specialist, but also his team's quarterback. He went on to play professionally with the Pittsburgh Steelers and led the NFL in punting in 1953 and 1954 before an injury cut short his career.