Texas DA killed: Link to slaying of deputy two months ago?
(Read article summary)
Texas DA killed on Saturday, nearly two months to the day since the shooting of one of his assistant district attorneys. Mike McLelland had been vocal about bringing justice to the first case.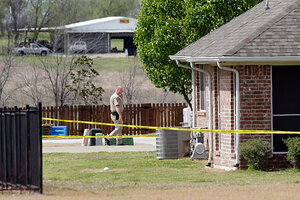 Mike Fuentes/AP
A Texas district attorney who vowed to hunt down the "scum" responsible for the killing of one of his assistant DAs in January was shot dead in his home Saturday, along with his wife.
Mike and Cynthia McLelland were found by a friend inside their house in Forney, about 20 miles east of Dallas, nearly two months to the day since the killing of assistant district attorney Mark Hasse.
No definitive link has been established between the two cases, but Chris Aulbaugh, the police chief for Kaufman, the seat of the county (also named Kaufman) where Forney is located, said the authorities would "assume until it's proven otherwise" that the two shootings are connected, writes The Dallas Morning News. 
According to The New York Times,
A law enforcement official said investigators believed that the shootings of the two prosecutors were related, but appeared to have been carried out by different people, perhaps from the same group or with the same affiliation. Shell casings were recovered in the shootings of the McLellands, but not in the shooting of Mr. Hasse, indicating that his killer or killers had more experience, the official said.
The shooting of Hasse – in broad daylight on his way to the Kaufman County courthouse – remains unsolved, and Mr. McLelland had been an outspoken advocate of bringing the perpetrators to justice.
"I hope that the people that did this are watching, because we're very confident that we're going to find you," he said at a news conference Jan. 31, the day Hasse was killed. "We're going to pull you out of whatever hole you're in. We're going to bring you back and let the people of Kaufman County prosecute you to the fullest extent of the law."
McLelland was the 13th prosecutor to be killed in the United States since the National District Attorneys Association began keeping count in the 1960s. But the number of attacks on prosecutors, judges, and law-enforcement officials has risen precipitously in the past three years, said Glenn McGovern, who follows these cases, in an interview with the Associated Press. Mr. McGovern is an investigator with the Santa Clara County, Calif., District Attorney's Office.
Most recently, former Los Angeles police officer Christopher Dorner launched a self-described campaign of "unconventional and asymmetric warfare" against the LAPD for what he said was his unfair firing from the police force in 2008. He is suspected to have killed four people before taking his own life during a standoff with the police inside a San Bernardino, Calif., mountain cabin Feb. 12. 
Authorities are also looking into potential connections between the killings in Kaufman County and the March 19 slaying of Colorado corrections director Tom Clements, who was shot at his home near Colorado Springs.
The primary suspect in that case, former Colorado inmate and white supremacist prison gang member Evan Spencer Ebel, died in a shootout with police about 100 miles from Kaufman County two days after the Colorado killing.
Since July 2012, McLelland's office had been involved in several high-profile cases involving prosecutions of members of the Aryan Brotherhood of Texas, another white supremacist group with links to prisons. McLelland had suggested that Hasse's death might have been connected to the cases. 
As the AP reports, 
McLelland, in an Associated Press interview shortly after the Colorado slaying, raised the possibility that Hasse was gunned down by a white supremacist gang.

McLelland, elected DA in 2010, said that Hasse hadn't prosecuted any cases against white supremacists but that his office had handled several, and those gangs had a strong presence around Kaufman County, a mostly rural area dotted with subdivisions, with a population of about 104,000.

"We put some real dents in the Aryan Brotherhood around here in the past year," McLelland said.
McLelland, an Operation Desert Storm veteran and former psychologist for the Texas Department of Mental Health and Mental Retardation, told reporters he had taken personal precautions in the wake of Hasse's death and had begun to carry a gun with him at all times.
"I'm ahead of everybody else because, basically, I'm a soldier," he told the AP.