Was a prisoner falsely convicted for murdering Michael Jordan's father?
(Read article summary)
Lawyers of Daniel Andre Green, who was sentenced to life in prison for the murder of James R. Jordan, have requested a retrial. How common are false convictions?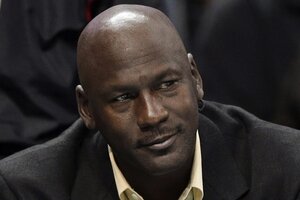 Chuck Burton/AP/File
Two decades after the murder of James R. Jordan, the father of NBA star Michael Jordan, lawyers are seeking a new trial for one of the defendants, whom they say was falsely convicted.
Daniel Andre Green, now 40, was found guilty of the 1993 shooting death of Mr. Jordan at a North Carolina highway rest stop and sentenced to life in prison. However, in a 250-page request for a new trial that was delivered on Wednesday, his lawyers detail why the trial proceedings may have led to a false conviction.
Green's trial was included in a 2010 report as one of about 200 cases out of thousands that were mishandled by the North Carolina State Bureau of Investigation over a 16-year period. Blood evidence was a major factor leading to Green's conviction, as it supported the testimony of Larry Demery, Green's co-defendant who earned a lesser sentence in exchange for testifying against Green.
The 2010 report, completed by a former FBI agent, found that in the 200 cases explored, information about blood evidence was overstated, omitted, or falsely reported by analysts, the Charlotte Observer reported.
"The blood evidence was critical to securing Mr. Green's conviction because it was the only physical evidence supporting Larry Demery's version of events," attorney Ian Mance said in a statement, according to the Observer.
Improved DNA testing and reevaluating mishandled evidence has resulted in multiple overturned cases in recent years. It raises the question of how often people are imprisoned for crimes they did not commit, and how the judicial system can prevent false convictions in the future.
The 1996 trial that led to Green's life sentence depended on multiple witness testimonies of the murder. Prosecutors argued that Green was guilty of shooting Jordan in his Lexus on July 23, 1993 on U.S. 74 near Lumberton, N.C. Green has claimed his innocence since the trial, although attorneys acknowledged he drove Jordan's car and helped dispose of the body, the Charlotte newspaper reported.
Demery, who was charged alongside Green for the murder, agreed to testify against Green as part of a plea deal for a lesser sentence with parole eligibility in 2016. But without the blood work, his testimony lacked physical evidence.
Jennifer Elwell, an analyst at the state crime lab, testified that blood was found on the seat of Jordan's car. The Observer reported that when trial attorneys requested four follow-up tests that may have countered the claim, they never received the results. Ms. Elwell's work was called into question in the 2010 report, which alleged multiple instances of mishandled blood work that resulted in possible false convictions. She was suspended from case work upon the report's publication.
According to their website, the Innocence Project works to exonerate wrongly convicted people through DNA testing and reforming the criminal justice system. Since 1989, there have been 329 post-conviction DNA exonerations in the US. Over 60 percent of those exonerated were African American, and the reassessment of DNA evidence has resulted in identifying 161 true suspects and/or perpetrators.
Paul Cates, the communications director of the Innocence Project, says that many false convictions are the result of either incompetence or deliberate misconduct by forensic scientists and practitioners. In cases where it may be deliberate, Mr. Cates says the problem can arise from the analysts working too closely with the police department requesting the work.
"It doesn't serve anyone's interest when an analyst misrepresents the evidence. When the wrong person is targeted, the real perpetrator goes free," Cates said in a phone interview with the Monitor. "That's where there needs to be a safeguard from preventing the police from giving hints or suggestions to the analyst so they don't know who the suspect is. There's not a possibility of favoring one suspect over another or fabricating the results."
"When you have an analyst where you see they have done either committed misconduct or are incompetent, the labs should go back and review their work," Cates added. "They have an obligation to do that."
The Observer reported that the Robeson County deputies may also be at fault for not conducting the investigation properly. The homicide deputies seized Jordan's cellphone, but never questioned the son of then-Sheriff Hubert Stone, who was called from that number after Jordan's death. Stone was friends with the lead investigator, as well as one of Demery's co-workers, the defense attorneys said.
"The discovery of the call from Jordan's car phone to a convicted drug trafficker with close ties to the sheriff's department casts a whole new light on this case and undermines confidence in the verdict," Holmes said in a statement, according to The Observer.