Indiana woman arrested after seeking parking lot to pull over for police
(Read article summary)
A woman in the Hoosier State discovered how far she couldn't drive after a police officer turned on his lights and siren.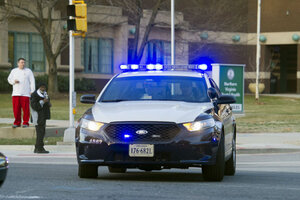 Cliff Owen/FILE/AP
It should have been a straightforward traffic stop, but instead resulted in an arrest, felony charges, and the prospect of losing a career.  
On March 20, at about 11:20 pm, DelRea Good, of Portage, Ind., was driving alone on a dark country road in Porter County, Ind., when a police officer, who had clocked her at 54 mph in a 35 mph zone, attempted to pull her over, according to The Times of Northwest Indiana. Ms. Good waved to the police officer, slowed down, put on her hazard lights, and proceeded to a well-lit Kohl's parking lot less than a mile down the road.  
Patrolman William Marshall subsequently arrested Good for felony resisting arrest.
Porter County Sheriff's spokesman Sgt. Larry LaFlower supported Patrolman Marshall's decision, citing a state law that requires motorists to yield to emergency vehicles. Marshall was driving a fully marked car and used the lights and siren, Sgt. LaFlower said.
According to the police report, Good told Marshall that safety prompted her to not to pull over immediately. "I don't care who you are. I don't have to stop on a county road. I'm a single female," Marshall quoted her as saying. He described her as "highly agitated and uncooperative."
Uncooperative as Good may have been, it cannot be said that her concerns were entirely unfounded. As the NWI Times points out, just two years ago, Portage police issued a warning about a possible impersonator who attempted to pull over a woman by using flashing red and blue lights.
That woman did not stop, a choice that Portage police characterized as wise.
But even genuine police officers can occasionally pose a threat, as the many high-profile instances in recent years of on-duty law enforcement officers committing rape have suggested.
As part of its warning two years ago, Portage police recommended that motorists concerned about their safety while being pulled over should call 911. Those unable to reach a dispatcher, police said, should acknowledge the officer by waving at them and then drive to a public location before stopping.