End to Scott Walker campaign inquiry smooths path for presidential bid
(Read article summary)
The Wisconsin Supreme Court had been investigating whether Governor Walker had inappropriately coordinated with conservative activist groups during the 2012 recall election.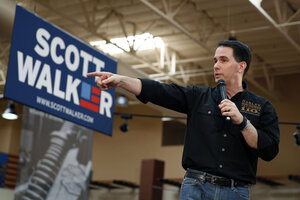 John Locher/AP
GOP presidential hopeful Scott Walker's path to the Oval Office was became slightly smoother Thursday when the Wisconsin Supreme Court decided to end a probe into whether his campaign during his 2012 recall election illegally coordinated with conservative activist groups.
The conservative governor's tenure in the state Capitol has been extremely polarizing in the traditionally progressive state. A successful attempt to strip public employee unions of their collective bargaining rights led to a recall attempt which he defeated, becoming the first sitting governor in US history to do so.
Since then, Governor Walker has been focusing on spearheading a legislative agenda that has boosted his conservative credentials as he gears up for the Republican primary season.
The lawsuit thrown out by the state's high court stems from an investigation launched by Milwaukee County District Attorney John Chisholm who alleged that the conservative groups and Walker's campaign illegally coordinated on issue advocacy and skirted campaign finance rules.
In throwing out the investigation, justices cited free speech concerns and said that state law was overbroad in defining the "political purposes" that groups and campaigns were prohibited from coordinating on.
"Today's ruling confirmed no laws were broken, a ruling that was previously stated by both a state and federal judge," Walker's spokeswoman AshLee Strong said in a statement following the ruling. "It is time to move past this unwarranted investigation that has cost taxpayers hundreds of thousands of dollars."
Justice Michael Gableman, part of the court's conservative majority, wrote in the majority opinion that regulations governing coordination for political purposes must be limited to express advocacy. Things like advertisements and communications that clearly call on voters to defeat or elect a specific candidate.
"To be clear, this conclusion ends the John Doe investigation because the ... prosecutor's legal theory is unsupported in either reason or law," Justice Gableman wrote. "Consequently, the investigation is closed."
The vote in state's high court, which has seven publicly elected seats, was effectively split on partisan lines.
Chief Justice Shirley Abrahamson, one of two liberals on the court, sharply disagreed and accused the majority of a faulty interpretation of state law in her dissent.
"The majority opinion delivers a significant blow to Wisconsin's campaign finance law and to its paramount objectives of 'stimulating vigorous campaigns on a fair and equal basis' and providing for 'a better informed electorate,'" Justice Abrahamson wrote.
The court's partisan split has generally led to gridlock in the state's judicial process and an incident made headlines in 2011 when an altercation between two justices turned physical. Earlier this year Abrahamson was engaged in a bitter dispute over passing over her role as chief justice to a rival member of the court.
Linda Feldmann wrote in the Monitor that the investigation represented perhaps the "biggest liability" to Walker's campaign for the White House.
While weathering the investigation is a major victory for Walker, the GOP candidate still faces an uphill battle for fundraising dollars and national name-recognition.
While prosecutors chose not to comment on the decision immediately after it was released, they do have the option of seeking review by the US Supreme Court.
This report includes material from the Associated Press.