Could Barack Obama become a Supreme Court justice?
(Read article summary)
Hillary Clinton said that President Obama would make a great Supreme Court justice. Is that possible?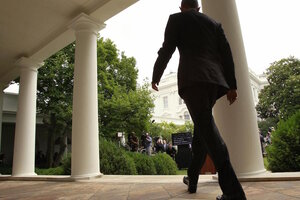 Jonathan Ernst/Reuters/File
Can a former POTUS go to work on the SCOTUS? Hillary Clinton thinks so.
At an event in Iowa, an audience member asked Mrs. Clinton, a Democratic presidential candidate, whether she would nominate President Obama for a role on the Supreme Court if she became the next president. Mrs. Clinton responded immediately, according to CBS News:
Wow, what a great idea. Nobody has ever suggested that to me. Wow, I love that, wow. He may have a few other things to do, but I tell you that's a great idea … He's brilliant and he can set forth an argument and he was a law professor. He's got all the credentials. 
Currently, Supreme Court justices have an average age of around 75, according to birthdates available from the Supreme Court website. Four of the justices will be over 80 by the end of the next presidential term, leading many to assume that the next president, Republican or Democrat, will likely appoint at least one Supreme Court justice.
But could President Barack Obama become Justice Barack Obama?
Legally, yes. Politically, maybe not.
"There are no constitutional restrictions on who can become a Supreme Court Justice (or any federal judge, for that matter)," Suzanna Sherry, professor of law at Vanderbilt Law School, told The Christian Science Monitor.
Article II, Section 2, Clause 2 of the Constitution states that the President has the power to appoint Supreme Court justices, among other offices, with the approval and consent of the Senate. Requirements as to who can be nominated were not included, leaving it to the discretion of the president.
There is also precedent for former presidents serving on the Supreme Court. William Howard Taft, the 27th President of the United States from 1909 to 1913, later served on the Supreme Court as Chief Justice from 1921 to 1930, according to his White House biography.
President Obama's biggest hurdle to a Supreme Court appointment would likely be a political one.
"Any Supreme Court appointment must be made with the advice and consent of the Senate – which is currently controlled by Republicans, and is likely to be vulnerable to a Republican filibuster for the foreseeable future," Seth Kreimer, Kenneth W. Gemmill Professor of Law at the University of Pennsylvania Law School, told The Christian Science Monitor via email.
The Senate must confirm any Supreme Court appointments made by the president. Constitutionally, the only requirement is a vote from the Senate approving the appointment. However, the candidate also has to go through a Judiciary Committee hearing before reaching a general Senate vote. 
Although rejection of a nominee for the Supreme Court is rare, it has happened in the past. The last rejected nominee was Robert Bork, who was nominated by Ronald Reagan and rejected by the Senate in 1987.
Mrs. Clinton referenced the need for a Democrat-controlled Senate in her answer in Iowa.
"Now, we do have to get a Democratic Senate to get him confirmed, so you're going to have to help me on that."
But Obama himself may not favor the idea. In an interview with the New Yorker in 2014, President Obama was asked about the possibility of a Taft-like move from the presidency to the Supreme Court. Ultimately, Obama rejected the idea.
"When I got out of law school, I chose not to clerk," he told the New Yorker. "Partly because I was an older student, but partly because I don't think I have the temperament to sit in a chamber and write opinions."