Liu Xiaobo awarded Nobel Peace Prize. Take the Nobel Peace prize quiz
Liu Xiaobo, a pro-democracy activist, won the 2010 Nobel Peace Prize Friday for his decades of non-violent struggle for human rights in China. Beijing was not impressed. Mr. Liu is currently in a Chinese prison serving out an 11-year sentence as the lead author of Chapter 08, a manifesto calling for free speech and multi-party elections.
The Nobel Peace Prize is one of the richest and most prestigious awards in the world. The prize includes a $1.5 million award. But how much do you really know about the Nobel Peace Prize? Take our 15-question quiz.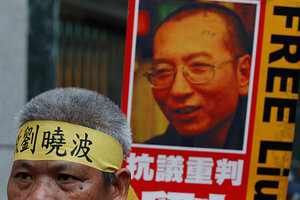 Bobby Yip/Reuters
1.

The Nobel Peace Prize is awarded by a committee appointed by the government of what country?

A) Sweden

B) Norway

C) Finland

D) Denmark

(Answer on the next page)