Javascript is disabled. Quiz scoring requires Javascript.
Monitor's weekly news quiz, March 5, 2011
How closely do you follow world news? Test your knowledge – from the obvious to the obscure – with our photo quiz.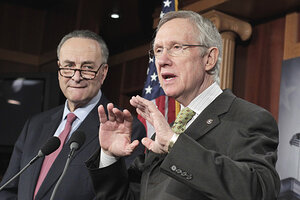 1.

The US Senate passed a bill to avert a government shutdown over the federal budget. What happens now?

That's it! We're all set for FY 2012! Whee!

Politicians now have two more weeks to agree on a budget.

Not so fast – the House still has to approve the vote.

Concerned citizens build a time machine to send the nation back to 1969, the last (uncontested) time the US government ran a surplus ($3.2 billion).