What's in a name? The royal baby's top five most likely names
With the royal baby's birth on Monday, the mystery over his sex has been resolved. But bets are still being taken over what the boy's name will be. Paddy Power, a leading betting service, gives George the best odds at 7 to 4, closely followed by James and Alexander with 4 to 1 and 9 to 1, respectively. As the world stands by for the announcement, here's a look at the history of the top five most likely names.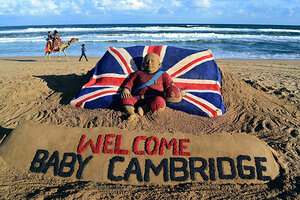 AP
1.

George

George is a regal name indeed, with 27 monarchs throughout the world – from Georgia to Tonga – having used the name. In Britain, there have been six King Georges. Most recently, George VI, the royal baby's great great grandfather, reigned from 1932 to 1952. The first King George was also Britain's first Hanoverian king. The royal baby, however, is from the House of Windsor.