Egypt's president claims security is "completely stable" after Sinai attacks
Donning the uniform he said he'd given up, President Abdel-Fattah el-Sissi told an audience of Egyptian military personnel that they are in a period of strength.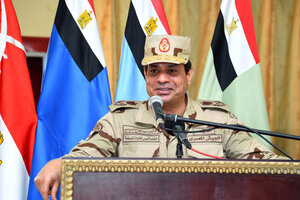 AP
Egyptian President Abdel-Fattah el-Sissi, wearing battle dress for the first time in over a year, declared Saturday that the country's security situation was "completely stable" following a coordinated assault on the military in the troubled northern part of the Sinai Peninsula.
Wearing his old uniform, which he said he had hung up for good when he ran for president, the general-turned-politician met members of the army and delivered a televised speech to troops in Sinai, his first public comments on Wednesday's attack.
"We want all Egyptians to rest assured that the situation ... it's not enough to say it's just under control. We are saying the situation is completely stable," said el-Sissi, standing before a group of soldiers.

Test Your Knowledge
Could you pass a US citizenship test? Find out.
"What is the period we're in? Somebody tell me! What period are we in? The period of strength!"
The army said 17 soldiers and over 100 militants were killed in Wednesday's brazen attack in Sinai, although before the release of its official statement, several senior security officials from multiple branches of Egypt's forces in the area had said that scores more troops also died in the fighting.
The assault, which was claimed by an Islamic State group affiliate, lasted a whole day and was unprecedented in its size and coordination. The attack hit a string of army checkpoints and involved multiple suicide bombings and the siege of a main police station with heavy weapons.
It came after a week of bloodletting that saw Egypt's prosecutor general assassinated outside his Cairo home by a massive car bomb, and a special forces raid on an apartment that killed nine members of the outlawed Muslim Brotherhood. The Brotherhood responded by calling for a "rebellion," raising the prospect of a further uptick in violence.
The Egyptian Foreign Ministry blamed the past week's violence on the Brotherhood, which it said was not only the source of Islamic extremism, but also coordinated operations on the ground.
"All of these attacks were conducted days apart, and showed a level of sophistication and coordination that affirms the presence of organized terrorist activity perpetrated by the Muslim Brotherhood," it said in a statement to reporters on Saturday.
Egypt routinely blames the Muslim Brotherhood for violent attacks in the country.
In Sinai's Rafah, a city on the border with the Gaza Strip, a roadside bomb exploded near a civilian home Saturday, killing a child and wounding four others, security officials said. They spoke anonymously because regulations did not permit them to release the information otherwise.
Also Saturday, the Islamic State affiliate in the Sinai also said it had fired three Grad rockets at Israel a day earlier.
In a statement posted on its Twitter account, the group which calls itself the IS group's Sinai Province said it fired the rockets because Israel was supporting the Egyptian regime. It also claimed Israeli aircraft had joined Egyptian warplanes in bombing its fighters.
Israel's military said the rocket was fired into southern Israel on Friday afternoon, hitting an open field but causing no damage or injuries. Egyptian military and security officials in Sinai have denied any rockets were fired from the restive peninsula.
Combat operations continued in the area late Friday, with the Egyptian army saying Apache attack helicopters fired missiles at groups of extremists, killing 10 of them.