How nationalism fuels anti-immigration front across the West
When it comes to politics, immigration is the empowering force for populist leaders across the Western world, including President Trump. And the facts around migration matter less than perception. A biweekly column on patterns in diplomacy.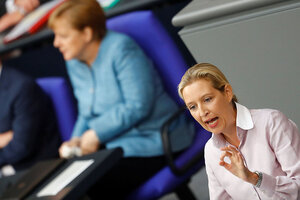 Hannibal Hanschke/Reuters
The battle over the immigration issue in America has masked what could prove a more fundamental change internationally: the emergence of an informal alliance including political leaders across the Atlantic who, like President Trump, have placed an angry mix of nationalism and populism at the heart of their message.
It is happening in Poland, Hungary, Austria, as well as with Italy's newly installed populist coalition and Turkish strongman Recep Tayyip Erdoğan, who was given a path to virtually unchallenged power by his latest election victory Sunday.
The anti-immigrant nationalists in France, under the banner of Marine Le Pen, were dealt a blow last year by the election of President Emmanuel Macron. But the pressure is now building on German Chancellor Angela Merkel from her coalition partners to take a far tougher line on immigration or risk seeing her government fall. She, Mr. Macron, and other leaders in Europe hoping to stem the tide are holding crucial European Union talks this week in hopes of finding a new, cooperative formula for meeting the challenge of immigration and asylum.
We'll get a much better idea of whether they can do so, or at least take the sting out of demands to close borders and send people packing, in the coming week. But the deeper trend – the populist backlash against economic globalization and the strains that is putting on the EU, as one of the main post-World War II vehicles for economic and political cooperation – already has two clear cheerleaders: Mr. Trump and Vladimir Putin in Moscow.
Trump, whose former campaign strategist Steve Bannon has recently toured Europe and met with anti-immigration nationalists, sees a welcome echo of his own stump speeches. For Mr. Putin, a potentially weakened EU – and possibly a weakened NATO as well – offer the potential of projecting his own influence on the continent, and even perhaps an end to Western sanctions over Russian intervention in Ukraine and the annexation of Crimea.
None of that is certain to happen. But in many ways, the clocks in Europe seem to be turning back to pre-war days, to a time when competing nationalist, ethnic, and religious forces held sway. After World War II, Soviet dominance of Eastern Europe effectively forced a lid onto them there, while the creation of the alliance among democratic countries of Western Europe created an architecture of cooperation that, at least for a while, successfully expanded to embrace former Soviet satellites after the fall of the USSR.
Immigration – or more accurately, a mix of immigration, globalization, war, and economic hardship – is a major reason for the populist surge. Even before the international financial crisis of a decade ago, the globalized economy contributed to the contraction or even the collapse of a number of traditional industries and businesses in the US and Europe. At the same time, war in places like Afghanistan, Iraq, and Syria, along with failed governance, poverty, and hunger in parts of Africa, led growing numbers of asylum-seekers and economic refugees to seek opportunities in Europe, peaking with a huge influx several years ago.
But the immigration part of the equation is complex. The facts are straightforward enough. A United Nations report last week revealed that an all-time high of nearly 70 million migrants were on the move in 2017. But the crucial element is not the number. It's the politics of immigration: its power as a weapon in focusing popular disenchantment, frustration, and anger on the "threat" of foreigners in a nation's midst. Rarely was this more evident than in the anti-immigrant isolationism of pre-World War II America, and in 1930s Europe.
Then, as now, the realities of immigration mattered less than the politics. In the US, crime rates appear to actually be lower among immigrants than for native-born Americans. Last week, Trump tweeted an unprecedented barb at Merkel, a key US ally. "The people of Germany are turning against their leadership as migration is rocking the already tenuous Berlin coalition," he wrote. "Crime in Germany is way up." Crime in Germany is, in fact, down. But the president did put his finger perfectly on the politics.
His message also underscored the challenge in achieving what Merkel is seeking at this week's EU talks, and what the UN report stressed was essential in defusing immigration as an engine for populism, nationalism, and potential political instability: "a far more comprehensive approach so that countries and communities aren't left dealing with this [issue] alone."