War crimes warrant for Bashir risks sparking unrest in Sudan
The International Criminal Court issued an arrest warrant Wednesday for President Omar al-Bashir on charges of war crimes and crimes against humanity.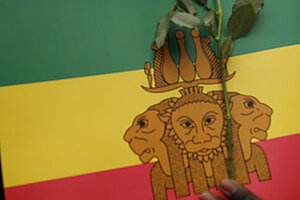 Jerry Lampen/Reuters
JOHANNESBURG, South Africa
Sudan's President Omar al-Bashir on Wednesday became the first sitting head of state to be charged with war crimes and crimes against humanity.
In a controversial landmark ruling, the International Criminal Court (ICC) issued an arrest warrant for Mr. Bashir for a range of crimes, including the attempt to destroy ethnic groups deemed to be supporting rebel factions in Sudan's troubled Darfur region.
"He is suspected of being criminally responsible ... for intentionally directing attacks against an important part of the civilian population ... murdering, exterminating, raping, torturing, and forcibly transferring large numbers of civilians, and pillaging their property," said ICC spokeswoman Laurence Blairon.
Critics worry the warrant could worsen Sudan's deadly conflicts and raises issues of double standards. Still, it's a potent symbol for the victims of the crisis in Darfur.
"This is a significant step for the hundreds of thousands of victims of conflict in the past six years," says Ariela Blatter, senior director for international programs at Amnesty International in Washington. "The fact that the ICC issued an arrest warrant for a sitting head of state is a signal to Bashir that there is no 'get out of jail free card' here."
Nearly 300,000 Darfuris have died since rebels took up arms against the government in 2003. The United Nations estimates that nearly 2.5 million Darfuris have been forced to flee their homes because of the fighting. Bashir's government denies ordering the deliberate murder of civilians in Darfur, and says that the death toll is much lower than the UN and the ICC estimates.
Ruling could spark instability
The indictment comes at a time of great political instability in Sudan.
Darfur rebels are expanding their operations into neighboring states as the country prepares for crucial national elections this year. And relations between the Arab-dominated government in Khartoum and the semiautonomous southern portion of Sudan are coming under increasing strain.
Campaigning for his National Congress Party outside of Khartoum on Tuesday, Bashir discounted the importance of the ICC's looming decision, saying that the ICC could "eat" the indictment.
Vice President Salva Kiir, a former southern rebel leader who now shares power with Bashir in a coalition government, struck a more conciliatory line.
"In the event of the court agreeing with the chief prosecutor," Mr. Kiir said on Tuesday, "the [Southern People's Liberation Movement] will work with its partners in the NCP on how to politically and diplomatically handle the decision of the court." He urged the international community to remain engaged in Sudan, whatever the decision, warning, "The collapse of peace in Sudan shall not only hurt Sudan itself, but shall also have serious repercussions in the region."
Bashir ended a decades-long north-south civil war, which claimed millions of lives, in 2003 by signing a comprehensive peace accord and agreeing to share power in a coalition government with the southern rebel movement, the SPLM. Despite Kiir's reassuring words, some experts worry that the peace deal could be dealt a fatal blow, as could similar peace talks with Darfur rebels, if SPLM leaders deem Bashir's government to be on its way out.
"We really have no experience of how to deal with this kind of situation," says Alex De Waal, an expert on Sudan at the Social Science Research Council in New York. "As a head of state, Bashir is implementing important matters, including elections this year, and, more important, the referendum in 2011." As part of its comprehensive peace accord, the south is scheduled to hold a referendum to decide whether to remain a part of Sudan, or to separate as its own country.
For this reason, leaders of the African Union and the Arab League have been working furiously to persuade the United Nations Security Council to encourage the international court to delay its indictment and issuing of an arrest warrant for at least a year. This, many African leaders believe, would give enough time for current peace talks with Darfur-based rebels to begin to bear fruit.
Critics: ICC has double standards
Many African leaders have found themselves siding with Bashir, despite the charges, because the ICC appears to pay more attention to the crimes of weaker African countries than those of rich Western ones, says Adam Habib, vice chancellor of the University of Johannesburg.
"It looks like white man's justice," says Mr. Habib. "It's easy to target Bashir because of Darfur, but then you have an illegal invasion of Iraq, where thousands of civilians have been killed and the country has been effectively destroyed."
If the US wants to take the lead in calling for justice, then it should join the ICC, says Habib. "It's systemic hypocrisy of the UN Security Council to refer cases like [Bashir's] to the [ICC] when one of the main members hasn't signed the treaty," Habib says, refering to the US.
But human rights groups insist the world should support the ICC's ruling.
"The international community should affirm its support for the Court and insist that Sudan and other countries cooperate with it as required by the UN Security Council," said Nick Grono, deputy president of the International Crisis Group.