South Africa impresses during test run for 2010 World Cup
Despite a few hiccups, the Confederations Cup soccer tournament was a 'great success,' say local and international soccer authorities.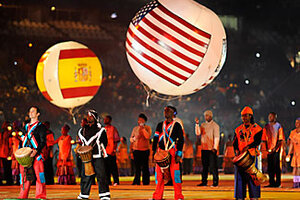 Martin Meissner/AP
Johannesburg, South Africa
As the Confederations Cup comes to a close today with the surprise matchup of Brazil vs. the United States in the final, local and international soccer authorities are lauding the tournament as a great success.
All eyes were on South Africa in the past week to see how the country would perform as hosts of the small tournament, which pits the top teams from each continent against each other and is widely viewed as a test run for next June's World Cup, the granddaddy of all world sporting events.
Ever since South Africa was awarded the 2010 World Cup back in 2004, there have been serious concerns about lack of organization, quality of infrastructure, pace of the construction of world-class stadiums, and – most of all – the country's sky-high crime rate.
Media exaggerating crime concerns?
Despite those concerns, however, the Federation of International Football Association (FIFA) President, Joseph "Sepp" Blatter, says that the issue of security is being "exaggerated" by the international media.
"The international media is blowing the issue of security and safety out of proportion," says Mr. Blatter. "Remember, before we granted Africa – South Africa in particular – the right to host the 2010 FIFA World Cup, the same international media strongly doubted whether the tournament would be a success story. Now that the Confederations Cup has proved wrong the doubting Thomases, [the international media] are now raising this issue of security.
"I am confident, South Africa will once again be able to host a successful 2010 FIFA World Cup," says Blatter.
The FIFA boss's sentiments were echoed by South Africa's Local Organising Committee (LOC) Chief Executive Officer, Danny Jordan. He says that the few challenges that have been exposed during the Confederations Cup will be addressed to ensure the much-awaited 2010 FIFA World Cup goes off without a hitch.
"Our country managed to provide tight security. South Africa looked after all its visitors and participating teams. I do not understand why now the 2010 FIFA World Cup would be a flop," said Jordan.
A few hiccups
Still, security questions persist.
Last week, members of the Egyptian national team were robbed at their hotel rooms in crime-infested Johannesburg. The Egyptians claimed to have lost a substantial, yet undisclosed amount of cash and various personal belongings.
But South African fans remained confident that their country will be ready.
"I would like to assume that, even if we [South Africa] had shortcomings in the Confederations Cup, the 2010 World Cup will be a huge success," says Tinyiko Livombo, a fan residing in the sprawling township of Soweto.
After seeing South Africa's national team – nicknamed the Bafana Bafana – make the semi-finals in this tournament and give soccer powers Brazil and Spain a very tough time, Mr. Livombo has lofty goals for his country's national team next June.
"My wish is to see my country excelling in the field of play just like what the Americans did [in the Confederations Cup]," he says. "While everyone is eager to host our visiting teams and their followers in harmony, we would also want to see Bafana Bafana reach at least semi-finals."