Nigeria's fuel crisis festers without a president in charge
Fuel carriers this week blocked major fuel distribution points with their trucks to protest a new energy sector deregulation bill waiting for President Umaru Yar'Adua to sign upon return from medical treatment in Saudi Arabia.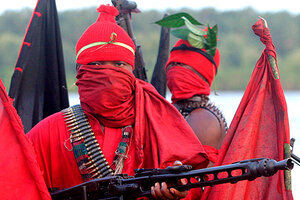 EPA/STR/File
To see the long lines of cars at gas stations across Nigeria's sprawling commercial capital, Lagos, you wouldn't think that Nigeria was actually one of the world's largest producers of oil.
To have a fuel crisis in Nigeria is like having a shortage of ice cubes in Siberia or of sand in Saudi Arabia. It simply boggles the mind.
But like most news events in Nigeria, the current crisis has many explanations: the political vacuum that has followed the departure of Nigeria's president for medical treatment, the decade-long Niger Delta militancy, and even the country's recent flirtation with energy deregulation.
Each argument is just as plausible as the next. The result, however, goes far beyond mere traffic jams to the actual slowing down of the Nigerian economy, precisely when it should be booming.
"This is artificial," says Femi Falana, a prominent Nigerian attorney from Lagos. "We are starting to see the collapse of the system. It is the government's responsibility to solve the problem, but there is nobody in government to answer the problem."
Why gas is so expensive in oil-rich Nigeria
The central mystery of Nigeria – its abundance of crude oil but its chronic shortages of gasoline and even electrical power – is actually quite easy to explain. Over the course of the past decade, almost all of Nigeria's crude oil has been exported, because its own refineries to produce gasoline and diesel have either fallen into disrepair through neglect or because of militant attacks in the turbulent Niger Delta region.
As a result, every liter of gasoline or diesel that goes into Nigerian automobiles or generators, and even into the power stations that provide electricity, must be imported from other countries. For a country that should – like Saudi Arabia or Venezuela – enjoy some of the lowest fuel prices in the world, Nigeria actually has some of the highest, like Japan.
Compounding this problem is the lack of political leadership in the nation's capital, Abuja. Since the recent departure of President Umaru Yar'Adua to Saudi Arabia for medical treatment, the government has stalled on making new decisions under the leadership of his vice president Goodluck Jonathan. Under a quirk of the Nigerian Constitution, the president must inform the Senate in writing of his planned departure from the country and delegation of duties to the vice president. Mr. Yar'Adua did not do that, and so there is no one, technically, in charge of the country.
"The president has not handed power to anybody," says Mr. Falana, who has filed a lawsuit to require the courts to decide who is actually in power, the president or the vice president. "The vice president cannot sign laws or contracts because he is not the acting president. This is going to lead to a political crisis."
Corruption stymies progress
It's not that Nigeria is unaware of its problems or fails to plan for them. Corruption within the government means that most solutions aimed at solving the problem – rebuilding refineries, say – end up simply lining the pockets of individuals.
According to industry reports, nearly $400 million was spent over the past six years to repair refining facilities, with no visible result. The Nigerian government this week announced that repairs to electric power plants in recent months have taken Nigeria from 2,500 Megawatt capacity up to around 5,200 MW capacity, but actual delivery through the system still remains around 3,200 MW of power. Power cuts remain common.
Now, with deregulation of the energy sector passed by the legislature but awaiting the president's signature to become law, labor unions, truck drivers and gas station owners have slowed down their work, awaiting the president's return. Fuel carriers this week lined up outside of the major fuel distribution points, turned off the engines of their trucks, and left them there, clogging up traffic. The country's largest labor union, the Nigeria Labour Congress, urged its workers to resist deregulation, which it says is destined to "raise fuel prices."
Truck drivers, labor unions benefiting
For its part, the state-owned Nigerian National Petroleum Company argues that there is plenty of fuel to go around, but that independent distributors and trade unionists are taking advantage of the current crisis to make money.
"The fuel supply has never been the problem, there is plenty of fuel," says Levi Ajuonumo, general manager of the NNPC in Lagos. He blames Niger Delta rebels for targeting oil pipelines, which required Nigeria to rely on truck drivers to ferry fuel around, and for targeting refineries, which required Nigeria to import refined fuels such as gasoline and diesel. Truck drivers and labor unions gain power from the desperation of Nigerian consumers, and slow down the distribution from time to time to increase their earnings, he adds.
"We are at the mercy of conditions totally beyond our control," says Mr. Ajuonumo. "We appeal to the truck drivers to deliver the product, and we call on the workers to work in the distribution points. We want the refineries to be working, but they have been vandalized by militants. Then you get the facilities turned around, but there is no crude in the lines because the pipelines have been vandalized. We call for security. We call for a state of emergency, it's like a war-time situation here."