Javascript is disabled. Quiz scoring requires Javascript.
A fabled city of the Sahara: How much do you know about Timbuktu?
Timbuktu has a reputation in Western society as a distant, mysterious city. But it is a real place, and is back in the news after Tuareg rebels seized the city and implemented sharia. Can you separate Timbuktu's myth from reality?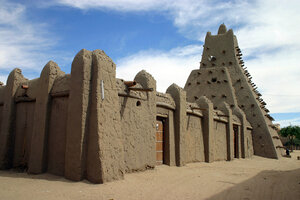 Scott Baldauf/File
1.

Where is Timbuktu?

In South America's Amazon basin.

In Mali, at the edge of the Sahara desert.

In Tibet, high in the Kunlun mountain range.

Timbuktu is a myth – it doesn't really exist.