Jail for journalist working on rape story in Somalia
Both Abdiaziz Abdinur, a contributor to The Monitor, and the woman who told him she was raped by men wearing government uniforms have received year-long sentences, prompting world concern.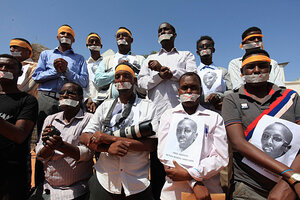 Feisal Omar/Reuters
The imprisonment of a Somali journalist and the conviction of a rape victim who told him her story have raised a storm of international protest with critics claiming the cases fly in the face of promises from the country's new government to safeguard human rights. 
A court this week in the Somali capital of Mogadishu jailed Abdiaziz Abdinur, a contributor to The Monitor, for a year on charges including insulting the government and making false accusations – even though he never published a story on the rape case. The 27-year-old woman he interviewed, who said she was raped by men wearing government uniforms in a camp for displaced people, was also convicted. Her 12-month sentence was suspended to allow her to nurse her newborn baby. 
Both denied the charges and their supporters allege major problems with the police investigation and the judicial process. 
Once known as the world's most failed state, the country now has a new constitution, a new administration, and new leaders who have been feted for their promises of reform. But the trial touched off widespread condemnation from around the world, including in the United States, which called the case a "litmus test" for Somalia's new government.
The Obama Administration was "deeply concerned" by the convictions, according to Victoria Nuland, spokesman for the State Department. "We are also concerned by reports of procedural irregularities and witness intimidation during the court proceedings," Ms. Nuland said in a statement this week. 
"Respect for women's rights and media freedom are fundamental to ensuring the development of a strong, stable, and vibrant democracy in Somalia," the statement continued. "These prosecutions run counter to protections contained in Somalia's provisional constitution, and send the wrong message to perpetrators of sexual and gender-based violence." 
UN 'disappointed'
The United Nations has reported that cases of rape are rising sharply in Somalia, with many carried out by armed men – allegedly including the army and police. 
Ban Ki-moon, the UN Secretary General, said he was "deeply disappointed" at the convictions.  
"The United Nations has repeatedly expressed alarm over reports of pervasive sexual violence in IDP camps in and around Mogadishu," Mr Ban said in a statement. 
"These crimes are under-reported because of risks to victims, witnesses and family members, as well as of intense stigmatization. It takes extraordinary courage for survivors to come forward."
Procedural concerns
Several groups said they had significant concerns over the way the cases were tried, pointing to wider issues with Somalia's attempts to introduce the rule of law where for two decades there has been no effective government. 
Mr. Abdinur was detained without charge, and with limited access to his lawyer, for 19 days before his trial. 
His defense was prevented from presenting key witnesses, and several Somali officials made statements claiming Abdinur's guilt before the court made its ruling. 
"Imprisoning a journalist simply for doing his job challenges media freedom and makes a mockery of the legal process in Somalia," said Omar Faruk Osman, Secretary General of the National Union of Somali Journalists. 
Human Rights Watch said the case was an attempt to cow both the victims of rape and journalists trying to bring the problem to air or to print. 
"The police investigation in this case was a politically motivated attempt to blame and silence those who report on the pervasive problem of sexual violence by Somali security forces," said Daniel Bekele, HRW's Africa Director. "The court's decision … sends a chilling signal to victims of sexual assault in Somalia. The government should swiftly move to exonerate and release the defendants."
Government response
Abdi Farah Shirdon, Somalia's Prime Minister, promised increased efforts to tackle the problem of rape, but said the trials were a matter for his country's judiciary. 
"In this instance the police has brought a case to the court and it is for the court – not the government – to establish the rights and wrongs of that case," Mr. Shirdon said. "I hope that at the end of this, we will be able to look closely at our system and see where we need to make improvements.
"We have been clear from the beginning of this unfortunate case that no one should have been kept in detention without charge. We are working hard to uphold the rule of law in Somalia, a country that has been in the grip of terrible conflict for more than two decades. 
"We recognize the concerns of our international partners and we are only too aware of the enormous challenges our nation faces," he said.