With violence at new heights, Nigerians weary of military's claims of success
The military retracted its claim earlier this week that it had freed most of the girls kidnapped by militants, feeding deepening public dismay in a week that saw numerous attacks.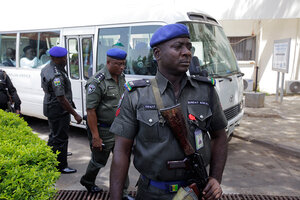 Sunday Alamba/AP
As he waited outside a hospital on Wednesday for the body of one of his friends to be released for burial, Basiru Youseff, a young toy salesman, was bitter about government claims that they crushing the insurgency.
"Government is a liar," he said.  "That's why the country is not better."
Violence in Nigeria reached new heights this week, with the biggest attack on the capital in the city's history, gun battles in the countryside, and the abduction of at least 129 girls from their schoolhouse by militants.  It is not known who perpetrated these attacks, though Boko Haram insurgents are widely blamed.

Test Your Knowledge
Could you pass a US citizenship test? Find out.
But for many Nigerians, official claims of success are almost as painful as the violence itself. While the military may make such comments in an effort to keep up morale, it feeds public frustration with a military that seems incapable of stemming what appears to be a widening conflict.
"The skepticism in the public mind is increasing, perhaps even about the government's culpability with the security concerns that Nigerians have," says Clement Nwankwo, who heads the Policy and Legal Advocacy Center in Abuja.
That skepticism surged Thursday when, after the military had claimed the night before to have rescued 121 of the kidnapped girls, the school principal, local leaders, and parents told the press that only 14 students were accounted for, and all of them had escaped on their own. 
By Thursday night, the military issued a retraction, saying the previous information came from a credible source but was incorrect.  "The report forwarded to the public on this issue was in good faith and not intended to deceive the public," it said.
 Borno State officials said the same day that six more girls had escaped, and that civilians had joined the hunt for the rest. Borno is one of three Nigerian states that have been under emergency rule for almost a year as security forces battle Boko Haram, an Islamist militant group that claims to want to enforce its harsh version of Islamic law, which includes banning Western education. 
Escalating death toll 
When the state of emergency began last year, security forces swiftly secured cities and towns, but fighting continued in the countryside. The violence has escalated this year, with more than 1,500 people killed between January and March, according to Amnesty International.
Boko Haram has not claimed responsibility for any of the violence this week but in the past 4-1/2 years it has been blamed for thousands of deaths in attacks on churches, schools, mosques, government assets, and market places.
Normally, when Boko Haram claims responsibility for an attack, it does so days or weeks later in the form of a video.  In the last video issued in late March, Abubakar Shekau, the man believed to lead the group, claimed his men were responsible for the March attack on a military detention center, where hundreds of detainees were reportedly killed by security forces.
The video shows heavily armed men rolling in on trucks, some mounted with machine guns. The group is increasingly well armed and well trained, according to analysts. 
Morale-boosting effort?
Military statements like the one claiming the girls were rescued, which project an overly positive account of battles, may be part of a strategy to improve morale, Mr. Nwankwo says.
"It would seem that the military has been quite embarrassed by the upsurge of Boko Haram activities, or indeed terrorist activities," he says.  They may "have issued the statement ostensibly to calm public concern about the deteriorating security situation in the country."
Other leaders say in the battle with Boko Haram, there are no rules, and if positive reports – true or untrue – can improve morale and discourage insurgents, the military should issue them.
"They're fighting a guerrilla war, which is very difficult to win," says Pastor Ayo Oritsejafor, the president of the Christian Association of Nigeria.  "America has experience in this and most of the world.  They went to Iraq.  They went to Afghanistan.… Did America really solve the problem?"