African heads of state may be coming down on Sudan
(Read article summary)
A meeting between African heads of state was moved from Kenya to Ethiopia and has now been postponed. The warrant for Sudan President Bashir's arrest could be a factor.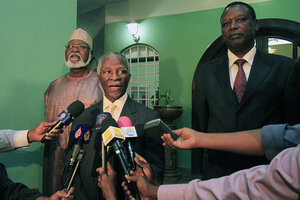 Mohamed Nureldin Abdallah/Reuters
A high-level gathering of the east African regional body IGAD (Intergovernmental Authority on Development), shifted from Kenya to Ethopia to accommodate Sudanese President Bashir, has been postponed. The meeting, focused on Sudan's upcoming referenda, was scheduled to begin tomorrow and is now tentatively planned for next weekend, according to an Enough source involved in the talks who wished to remain anonymous.
On the surface the controversy of the IGAD meeting appears as yet another gesture to undermine the ICC and flout the court's arrest warrant for Bashir, but it can also be seen as a small victory.
News of Bashir's likely attendance stirred up controversy in Kenya just two months after Kenya's constitution ceremony was overshadowed by the Sudanese president's participation. Kenya, an ICC member state, was widely condemned for allowing Bashir to travel freely for the ceremony, especially given its own ongoing ICC investigation into post-election violence. A group of more than 20 human rights and civil society organizations sent a letter to the Kenyan president and prime minister calling on Kenya to respect its obligations as an ICC member state and bar Bashir from traveling to Kenya.
"A visit by al-Bashir would run counter to Kenya's commitment to the ICC. It would also send damaging signals to victims of mass atrocity in Darfur and undermine Kenya's credibility on issues of justice," the statement said.
The ICC itself sent a letter to Kenya on Tuesday pressing for Bashir's arrest if he sets foot in Kenya. A day later, IGAD announced that the summit venue would be shifted to Addis Ababa. The head of IGAD said the decision was, "not a big deal," but the timing of the announcement suggested Ethiopia was selected to host because it is not a member of the International Criminal Court.
Once the new venue was selected, there is some speculation that the postponement may have been tied to the resignation on Wednesday of Kenyan Foreign Minister Moses Wetang'ula. Another explanation is that the logistical challenges of shifting the venue to Addis Ababa on short notice forced the change of date. Given the long list of issues Sudan and IGAD need to confront within a short window of time before the referenda, it is unfortunate that the meeting is being delayed further. Moreover, Enough's source said he was "reasonably confident" the meeting would indeed happen November 6 and 7.
So is this yet another disappointing example of the ICC being conspicuously sidelined? The email discussion that the news prompted among colleagues at Enough ultimately concluded on this positive note:
"The ICC, in my opinion is getting the finger ONLY because IGAD wants to make the effort to accommodate Bashir, but ultimately the ICC is winning because of the very fact that they have to move the meeting because of the ICC. Very soon the same voices that led Kenya to change its mind in receiving Bashir, will be loud enough to make Addis follow suit next time, and so on. We should look at this issue as a process that will change all minds, one country at a time..."
– Laura Heaton blogs for Enough Project at Enough Said.