Venezuela's Chávez riles critics with new decree
Chávez issued 26 laws last week, many of which resemble items in a constitutional reform package rejected by voters last December.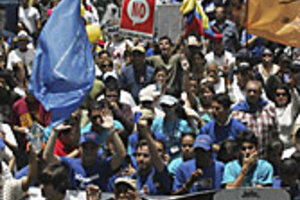 Edwin Montilva/Reuters
Caracas, Venezuela; and Mexico City
Venezuela's popular leftist president, Hugo Chávez, suffered his first major defeat last December when voters rejected constitutional reforms that would have concentrated more power in his hands.
Back then, Mr. Chávez claimed to have accepted the will of the people and seemed to back off his confrontational approach to pushing for a socialist state.
But now, his government is once again riling critics with recent moves, such as the passage of a slew of new laws that resemble items in the rejected constitutional reform package and the banning of opposition candidates from upcoming mayoral and gubernatorial elections.
If the new laws are perceived as a way to force reforms down the throats of voters who already rejected such proposals, however, it could embolden the opposition further and turn off moderate Chávez supporters ahead of regional elections in November.
"The intentions [of the laws] are exceedingly clear: centralization, expanding control over society," says Teodoro Petkoff, the editor of the opposition daily Tal Cual and a Chávez critic. "The constitutional reform generated doubts, criticisms, and reservations among those who had previously voted for the president, and contributed to [December's] defeat. Seeing as the laws reproduce aspects of the constitutional reform, it should generate the same apprehensions about the government's intentions."
26 new laws by decree
Chávez issued 26 laws last week, upon the expiration of an 18-month period in which he could make laws without the approval of the National Assembly.
They range from the renaming of the armed forces to the establishment of civilian militias to giving more power to regional authorities who are designated by the central government.
"The president has abused his legislative powers," says Gerardo Blyde, an opposition politician for the New Era Party and candidate for the mayor of Baruta municipality in Caracas. "Many of the 26 laws violate what the people denied him on Dec. 2."
Supporters of Chávez, however, heralded the new laws. "They were the only government that called us to participate in the creation of the Constitution; never before had a government given us that right," says electrician José Chiquito, standing at the "hot corner," a main plaza in downtown Caracas where Chávez supporters often meet to discuss politics and current affairs.
Sidelining opposition candidates?
The decree comes a week after Chávez announced intentions to nationalize the Bank of Venezuela, owned by Spain's Santander group. It also comes at the same time as last week's Supreme Court ruling to uphold a ban on 272 candidates in November's state and local elections.
The list was created by the comptroller general, a Chávez ally, who has maintained that candidates undergoing corruption charges cannot run for public office. The majority on the list is aligned with opposition parties.
Last week, about 1,000 Venezuelans took to the streets of Caracas in protest of the new measures, shouting "Freedom!"
Over the weekend, opposition leaders and students, who played a critical role in December's referendum defeat, staged another march. Many observers expect more outcry in coming weeks. "People feel betrayed. They are going to make him pay in these elections," says Abraham Bellorin, a radio producer and opposition supporter. "The law decrees lit the match of conscious popular reaction."
The central government, however, says that the new laws are part of an effort to make bureaucracy more efficient.
Sour grapes?
And government supporters say the flurry of criticism comes from an opposition that is concerned with losing its privileges. "The opposition represents minorities, land owners, capitalists," says Saul Ortega, a pro-Chávez deputy and vice president of the National Assembly. "Since laws don't favor privileged minorities, you get criticisms."
Still, the move took some by surprise. Chávez recently had seemed to acquiesce, revoking, for example, a controversial intelligence law and putting the brakes on an education law that would have taught socialism as part of the school curriculum.
But some see it as a calculated move. "Chávez had a Plan A and a Plan B," says Maryclen Stelling, a sociology professor at the Andres Bello Catholic University in Venezuela. "Approving the constitutional reforms through a vote – the revolution using democratic channels – represented Plan A, and the enabling law was Plan B."
And some worry about what comes next. "If the president leaps over the Constitution by inserting law decrees [that were] rejected, what stops him from introducing indefinite reelection? What public power can put the brakes on what the government wants to do?" says Ronald Balza, an economics professor at Andrés Bello Catholic University. "Chávez moves in zigzag, knocking down institutions one at a time so he can do what he likes. Sometimes there's a step back. He lost the reform, then he launches 26 laws."
Chávez sought to temper criticism of a power grab on his Sunday television program. "What secret laws?" he asked. "They were published, and all were debated and discussed. And anyone who is not in favor of a law or a part of a law can go to the Supreme Court. In Venezuela, there is the rule of law."