Will massive Juanes concert in Havana stir winds of change?
The star-studded jamboree organized by Latin pop idol Juanes drew the biggest crowd in Cuba since Pope John Paul II visited in 1998.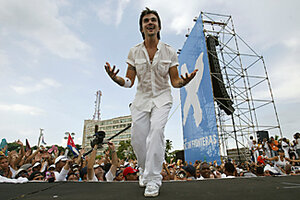 Reuters
Sunday's "peace concert" headlined by Colombian singer Juanes in Havana elicited death threats to the Latin Grammy-award winner, Miami rallies where protesters smashed his CDs, international arguments over politics and music in Cuba, and even a comment from President Obama.
But the day after hundreds of thousands poured into Havana's Revolution Square to get their groove on to the sounds of Juanes and other top Latin stars – after weeks of debate and media frenzy leading up to the event – the question looms: Will it help shift the political tides that separate Cuba from much of the rest of the world?
For many longtime Cuba watchers, the answer is no. "These events don't do anything because the day after, even the hour after, everyone goes to their home and the situation stays the same," says Alejandro Rios, an observer of Cuban culture and head of the Cuban Film Series at Miami Dade College.
Juanes, who lives in Miami and has won 17 Grammys, was joined on stage by 14 artists from around the world, including Olga Tañón of Puerto Rico and Miguel Bose of Spain. It was Juanes's second "Peace without Borders" concert. The first took place on the Colombia-Venezuela border after tensions flared between the two nations last year.
"I can't believe what my eyes are seeing," Juanes said from the stage Sunday, describing the crowd, which organizers estimated at over a million, as a "beautiful dream."
Largest gathering since the Pope's visit?
It is not the first time international artists have played in Cuba since Fidel Castro turned the island nation into a communist state half a century ago. But, while the number of attendees could not be verified, this was billed as the largest gathering from an international visitor in Revolution Square since Pope John Paul II visited in 1998.
The event sparked a divide in the Cuban-American exile community in the US, with critics claiming that the concert gave the Castro government, now run by Fidel Castro's younger brother, Raúl Castro, a false image of tolerance."There is no question that anything you are going to do in Cuba will be politicized and controlled by the government," says Andy Gomez, a senior fellow at the Institute for Cuban and Cuban-American Studies at the University of Miami.
Mr. Gomez opposed the concert, but he says the internationally-televised event was a mixed bag, giving Cubans a day of escape from their realities. And even though artists promised to keep the event apolitical, he says that their words and actions could have been open to interpretation.
At the end of the concert Juanes, for example, shouted "Cuba Libre," words more often heard in the exile community of Miami. Furthermore, the artists dressed in all-white. For some, that is simply the international symbol of peace. (The concert took place one day before the UN's International Day of Peace.) But Gomez says its may have been a sign of support for the "Ladies in White," an opposition movement comprised primarily of spouses and family members of jailed dissidents in Cuba.
What does Obama think of the concert?
Mr. Obama, in an interview that ran Sunday on the Spanish-language network Univision, said that the concert would have a limited impact. "I certainly don't think it hurts US-Cuban relations," he said. "I wouldn't overstate the degree that it helps."
Many agree with that assessment. Mr. Rios, who supported the concert, says that such events, starting with Billy Joel performing in Cuba in 1979 or US rock band Audioslave four years ago, end up providing more publicity for the artists than any sort of tangible change for people. "I know they had fun. It is wonderful to open a window and see Juanes," says Mr. Rios. "But a concert won't change a government."
Art as vehicle to connect people
Others feel more hopeful. Lillian Manzor, director of Latin American Studies at the University of Miami, says that art is one of the best vehicles to connect people. She has run theater exchanges between actors in Havana and Miami. "Culture is the best way to bridge ... political divides at the level of human beings," she says. "The impact at the level of politics with a capital 'P,' that's another question."
Even the divides that formed in the Cuban exile community, largely along generational lines, is "healthy for the debate," Ms. Manzor says.
And Gomez says that if the concert does anything, it could continue directing a message at young Cubans to push for change from within. "It's a little bit of an open door directed at Cuban youth," he says.
-----
Related Story: Can Juanes rock Havana, Cuba? Si, Señor.