Honduras deal a boost for US influence in Latin America
The Honduras deal, which calls for national unity government and agreement on Nov. 29 elections, pushes back against the dominant narrative of waning US clout in region.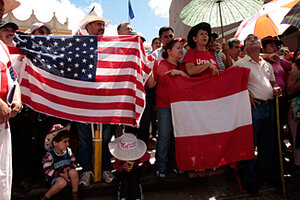 Arnulfo Franco/AP
Hondurans on both sides of the political spectrum are expressing cautious optimism that their fourmonthold political crisis has come to an end.
Negotiators for ousted President Manuel Zelaya and interim President Roberto Micheletti have come to an agreement that could return Mr. Zelaya to the presidency, after he was arrested and deposed June 28.
But it is also a foreign-policy victory for the United States, which sent a diplomatic mission this week to the Central American nation and can return home claiming to have made headway where others had thus far failed.
Under the terms, the Honduran Congress, with prior authorization by the Supreme Court, will have the ultimate say on whether Mr. Zelaya sets up office again in the presidential palace – a scenario with no clear outcome. But a fresh path to solution has opened, after Thomas Shannon, the US top envoy for the Americas, traveled to Tegucigalpa and got both sides back to the negotiating table.
Mr. Shannon reiterated that there is still a lot of work to be done. Congress will be deciding "when, if, and how" Zelaya returns, he said. "That is going to be the issue that is most provocative internally and probably where we in the international community are going to have to pay the closest attention."
Still, in getting to this point, the US fights back against the dominant narrative of its waning influence in Latin America. "This is a triumph, above all, for the United States. It ratifies the weight that the United States has in the region," says Juan Ramon Martinez, a political analyst in Honduras.
It remains to be seen if this is a triumph for Zelaya or Mr. Micheletti.
Zelaya has already laid claim to victory. "This signifies my return to power in the coming days, and peace for Honduras," he said on the local station Radio Globo. He told the Associated Press that he expects Congress to vote within a week on his fate.
But negotiators for Micheletti issued a statement underlining that, although the agreement represents a "significant concession" on their part, the signing of the agreement does not mean the automatic restoration to power of Zelaya. In fact, Zelaya does not enjoy widespread support in the Congress, which backed his ouster. Mr. Martinez, for one, says he does not believe Zelaya will ever return to office. "Never," he says emphatically.
Guaymuras Accord
The "Guaymuras Accord," as the agreement is named, also calls for a national unity government, a truth commission, and binding promises that both sides will respect presidential elections slated for Nov. 29.
Those watching the political crisis in Honduras have expressed hope that this is a step forward. "It provides a path forward that did not exist 24 hours ago," says Eric Farnsworth, vice president of the Council of the Americas, a consultancy based in New York. "But it will require a lot of work, and there are a lot of pieces that have to fall into place."
There is no official timeline for when Congress must vote on Zelaya's return, for example, and if they stall, Zelaya's team could balk. But the US expressed optimism. US Secretary of State Hillary Rodham Clinton, speaking from Pakistan, told reporters it was a "historic agreement," and that "this is a big step forward for the inter-American system."
With the rise of Brazil, the influence of China in the region, and US foreign policy priorities turned toward terrorism, US clout in its so-called backyard has dipped. But its weight in Honduras, which relies heavily on exports to the US and on remittances sent home from migrants abroad, is clear.
"I do think that this shows the continued relevance of US diplomacy in Latin America," says Mr. Farnsworth. He says that the two most important initiatives to bring an end to the crisis were supported by the US: the negotiations begun by Oscar Arias, the president of Costa Rica, who had the full backing of Mrs. Clinton, and the rush trip by Mr. Shannon, who fought to reignite the second major round of talks after they had stalled.
John Carey, a political analyst on Latin America at Dartmouth College in Hanover, N.H., says that the US benefited from "good timing" and the hard work that other negotiators such as President Arias and diplomats from the Organization of American States (OAS) have put in. "When Oscar Arias was trying to arrange the deal, it was hard to imagine Zelaya being reinstated to the presidency.... There was too much time in the term, and there is almost no time left now," he says. "It must make it a more palatable solution to Micheletti."
Giving Honduran Congress final vote
Martinez says that the US-brokered deal, in allowing the Honduran Congress to have the final vote instead of demanding the immediate reinstatement of Zelaya, is an important concession on the part of the US and the OAS, which now promise to support elections. "The agreement allowed the US to recuperate its prestige, and is a sign of triumph of the international community backing down from its intransigence," he says.