7.0 earthquake rocks Haiti
Relief agencies have put out calls for donations, and are preparing teams to go to Haiti in the wake of Tuesday's quake. A hospital, the National Palace, and other buildings in Haiti's capital were damaged in the biggest earthquake to hit the island in 200 years.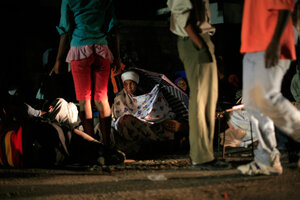 Kena Betancur
UPDATED:10:40 p.m. EST
A powerful earthquake caused major damage to Haiti when it hit off the coast of the Caribbean nation of 10 million rocked by political violence and poverty.
The US Geological Survey (USGS) said that a magnitude 7.0 quake struck shortly before 5 p.m. local time Tuesday, about 10 miles from the nation's capital Port-au-Prince,
Alain Le Roy, the United Nations. peacekeeping chief in New York, told the Associated Press late Tuesday that the headquarters of the 9,000-member Haiti peacekeeping mission and other U.N. installations were seriously damaged."Contacts with the U.N. on the ground have been severely hampered," Le Roy said in a statement, adding: "For the moment, a large number of personnel remain unaccounted for."
Other reports indicated that a major hospital, the National Palace, and many other buildings more than one-story tall had been damaged in the capital city.
State Department spokesman P.J. Crowley told the Associated Press in Washington that embassy personnel were "literally in the dark" after power failed."They reported structures down. They reported a lot of walls down. They did see a number of bodies in the street and on the sidewalk that had been hit by debris. So clearly, there's going to be serious loss of life in this," he said.
All flights into or out of the capital were canceled Tuesday evening. Communication by phone was intermittent at best. But photos and messages did get out from the island nation via Twitter and Facebook. "A friend came from across town.Belair is a broken mess..BNC is down..Berhmann is damaged..a long night ahead..some traffic on Capois," was one of many tweets by Richard Morse, a musician and manager at the Olafson Hotel.
As one of the poorest nation's in the world, Haiti is a place where many relief and aid organizations have experienced personnel on the ground. And many were responding quickly to the calls for donations and assistance. "Initial reports indicate that the quake has caused extensive damage, and we fear that casualties could be widespread," said Randy Martin, Mercy Corps director of Global Emergency Operation in a statement Tuesday night. "Our team will quickly assess what the most pressing needs are in earthquake-affected areas."
"I'm calling on all friends of Haiti and people who are listening to me to please come to our aid," said Raymond Joseph, Haiti's ambassador to the U.S. told CNN.
Hip-hop musician Wyclef Jean, a Haitian with his own aid organization, "Yele Haiti," also sent out an appeal for donations. On his website, he said: "We must think ahead for the aftershock, the people will need food, medicine, shelter, etc."
Former President Clinton, named special United Nations envoy to the Caribbean nation, has been trying to woo investors and tourists back to the nation, which shares Hispaniola Island with the Dominican Republic. He issued a statement Tuesday saying his office would do whatever he could to help the nation recover and rebuild."My thoughts and prayers are with the people of Haiti," he said.
USGS analyst Dale Grant told the AP that today's temblor is "the largest quake recorded in this area" since 1770. The last major quake was a 6.7 magnitude temblor in 1984.
The earthquake had a depth of five miles, and the USGS said damage and casualties could be substantial. Losses could wreak havoc on Haiti, which is the Western Hemisphere's poorest country, with 70 percent of the population living on less than $2 a day.
The US Pacific Tsunami Warning Center, put a tsunami warning out for Haiti, the Dominican Republic, Cuba, and the Bahamas shortly after the quake. The warning was not in effect for Puerto Rico or the Virgin Islands. The warning was subsequently canceled.
The quake was followed by dozens of aftershocks, including two powerful aftershocks of magnitude 5.9 and magnitude 5.5.
Worldwide, at least 1,783 were killed in earthquakes in 2009. The deadliest occurred in southern Sumatra, Indonesia, with 1,117 killed when the 7.5 magnitude quake hit on Sept. 30, according to the USGS and the UN Office for Coordination of Humanitarian Affairs.