Chile mine rescue dwarfs others: World's Top 5 mine rescues
The technical difficulty of the ongoing Chile mine rescue may put it in the history books for some time as the most impressive mining rescue. Many of the miners have now emerged from their enclave more than 2,000 feet underground, where they awaited rescue for 69 days. Below are some of most notable mine rescues in recent times.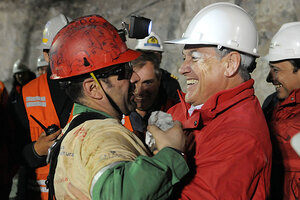 Jose Manuel de la Maza/Chilean Presidential Press Office/AP
5.

Chile: Aug.- Oct. 2010

Many of the 33 miners who were trapped underground in a Chilean mine for more than two months have been brought to the surface and, barring any complications, the rest should be brought up by the end of the day Wednesday. The saga that has captivated the world began Aug. 5, when part of an underground copper mine in the Chilean desert collapsed, trapping the miners more than 2,000 feet below ground. A 622-meter shaft was drilled to reach the miners and a capsule designed by NASA and the Chilean government specifically for the rescue has been sent down the shaft used to bring the miners up one by one.