Chile mine rescue a PR coup for Chile – and President Piñera
President Sebastian Piñera's government milked the Chile mine rescue as an opportunity to bolster the country's reputation as a safe place for investment.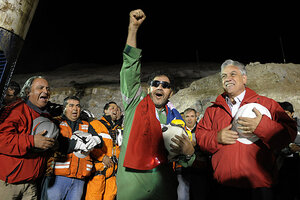 Alex Ibanez/Chilean Presidential Press Office/AP
The successful rescue of 33 miners from a half-mile underground may have cost the government millions of dollars more than expected. But with the media spotlight and the effort routinely beating expectations, it gave this country, and President Sebastian Piñera, the kind of publicity that money can't buy.
President Piñera took the risk of opening the Chile mine rescue to more than a thousand reporters, camera operators, and technicians from the world press, and ended up with his photo on the front pages of newspapers from Vienna to Tokyo.
He was there to personally greet and embrace each miner after they had been pulled one by one more than 2,000 vertical feet to safety after being stuck in the mine for more than two months. And he remained at the mine with his top officials until after midnight, awaiting the return of the six rescuers who had descended into the mine.
RELATED: 5 reasons the Chile mine rescue was so successful
The result is a public relations coup for Piñera, and for Chile, which last year became the first country in Latin America to join the Organization of Economic Cooperation and Development (OECD).
Following its admission into that group of developed countries, Chile had been hoping to bolster its reputation as an advanced Latin American country and a safe place for investment. And Piñera's government milked the marketing opportunity for all it was worth.
"The professional way they managed this, with state of art technology, is a plus for Chile and its presentation as a serious, well organized country," says Carlos Caicedo, head of Latin America analysis at the Exclusive Analysis firm in London. "Other mining countries will look to Chile as not only a place for exploration but also to supply expertise for accidents in the future."
Domestic benefits
Domestically, Piñera's government has benefitted from his handling of the trapped miners.
In September, pollster AdimarkGfK found that 87 percent of the public who had heard of Mining Minister Laurence Golborne approved of his performance, the highest approval for any minister since Adimark started its monthly poll in 2006. The country's legislature, which had been blocking a change in mining taxes, yesterday approved the change with more than 70 percent supporting the government.
Planning pays off
The public relations success was planned.
The president's office supported press coverage of the rescue. In the 10 weeks between the mine's collapse and Wednesday's rescue of the trapped workers, government-funded bulldozers converted this dusty mountainside into a campground for hundreds of tents, campers, and satellite trucks. The government expanded the mine's wireless network to the press area outside the gates. Electricians set up ranks of arc lamps around the rescue site, giving it the glow of a movie set. Local governments trucked water up from nearby communities and handed out lunches donated by local businesses and fishermen to reporters and family members alike.
A little pushback
To be sure, not everyone is thrilled with how Piñera took advantage of the event for publicity.
"What did the minister do?" asked Chile-based independent country risk analyst Armen Kouyoumdjian, in an Aug. 27 note. "He stood around making the occasional emotional comment whilst a machine was drilling a hole."
And some family members of the miners – many of them politically opposed to the president – grumbled at celebratory campfires Wednesday night, saying that the whole rescue would have been faster if it hadn't been converted into a media show.
Golborne has responded to such thoughts in recent press conferences, saying that the timeline was set by safety, not by politics.