Five things Chile miners will have to tackle next
The story of the 33 Chilean miners trapped underground for two months, a story that captivated the world, will soon fade into the backdrop. But for these men, their reemergence on the surface Wednesday is just the beginning of months, possibly years, of adjustment to their heightened status in society and the changes that happened while they were underground. Below are some of the things the miners will have to tackle next.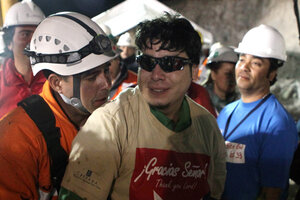 Hugo Infante/Chilean Government/AP Photo
1.

Health issues

Perhaps the most pressing concern is the miners' health. Many of the men lost weight while underground, but none were in any kind of immediate medical danger once the established contact and began receiving food. The men are now under observation at a nearby hospital and the BBC reports that many are receiving care for dental and eye problems. Two men are being treated for a diagnosis of lung disease and doctors are concerned that one of the miners may be showing signs of depression. However, doctors also said they are surprised by the overall good health of the group, but will monitor their mental health as they readjust to life above ground.