Colombia-FARC peace talks: 5 ways the Left lives on in Latin America
Peace talks have officially begun between the government of Colombia and FARC rebels. It is the first time peace has been on the table in over a decade. Previous talks have failed three other times in the past 30 years, but now hopes are high that the FARC, who emerged in 1964 as a group of communist peasants rebelling against the state, and later turned to the cocaine trade to fund their activities, could finally put down their arms. It would bring to an end one of the world's longest standing conflicts. And it is a reminder of how hardcore leftist political ideology lives on in Latin America, long after the close of the cold war. Here are five lasting examples: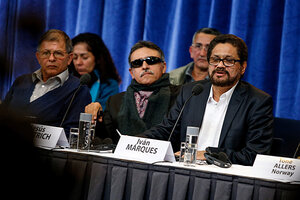 Audun Braastad/Scanpix Norway/AP
FARC

The Revolutionary Armed Forces of Colombia, known as the FARC, emerged in 1964 as a peasant self-defense group that then adopted Marxism. The FARC once numbered 20,000 fighters, and is responsible for bombings in Bogota and other cities and high-level kidnappings, included of US citizens. The FARC is listed as a terrorist organization by the US, along with the National Liberation Army, or ELN, another Colombian revolutionary guerrilla organization that has operated for decades but is much smaller.

The group's political origins in Marxism have been overshadowed over the decades by its dependence on the cocaine trade. The FARC's ability to operate was weakened under former President Alvaro Uribe and the US-sponsored Plan Colombia, although the FARC still wields power in rural parts of the country. Starting in 2008, despite several blows to the organization, Colombia has seen a resurgence of violence that has intensified this year. Now, as President Juan Manuel Santos sets out to seek a peace agreement with the rebels, a major turning point for Colombia could be on the horizon.